It began last night while I was walking down our street with Abe. A strange black and white dog who had been sitting unleashed in the middle of a lawn came up to us to say hi. Abe, as he does with all bigger dogs, started barking ferociously. Fearing for Abe's foolish life, I took him home. I walked back to check on the dog and saw that he had moved down a couple yards. I called to him and he came over to me. There were no tags on his salmon-colored collar, so I leashed him up and took him home.
He stayed in the back yard while I started knocking on some neighbors' doors. No luck there.
When I got home, Abe started barking at me, "Hey, you left that dog in the back. He's big and will either steal our woman or eat us and then steal our woman. Get rid of him." Winston just glared at me and gave a growl lower than I have ever heard. I told them it would be alright. They didn't believe me.
I decided to name the new dog Philip, because, of the half dozen names I tried, that's the name he responded to best.
The temperature outside that night was going to drop to a Texas-rare 26 degrees. Philip would have to be inside, but Abe and Winston wouldn't have that, so he spent the night in our garage, displacing the Low Rider onto our driveway.
Sarah, who had been at her monthly bunco night, came home confused as to why her Camry was outside. When I told her of our guest, she was both excited and annoyed. Dogs are always fun to have around, but there has been a lot going on in our house the last few days, and adding another occupant wasn't going to help things.
Philip made it through the night without any problems. This morning I took him for a walk, posted a few flyers around the neighborhood, and worked from home for the first half of the day. His owner called this afternoon. It turned out that Philip lived pretty close to us. His owner told me that he was a bit of an escape artist and had already chewed his way through three gates and broken down a couple doors. He asked if we wanted to keep him. I politely declined and he said he would fetch him from our back yard.
Operation Find Owner Of Dog was successful.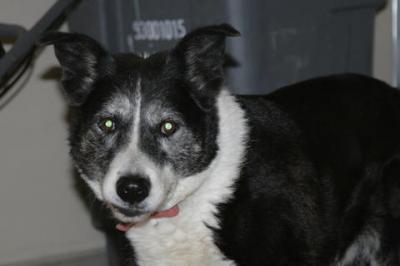 Philip, the dog, on his recent holiday.