I ate lunch yesterday with a group of co-workers and former co-workers. Greg graciously agreed to work from home so that Eleanor would be taken care of while I went to lunch. When I arrived, everyone asked, "Where's Eleanor?" A reasonable question given that I'm home with her most of the time, but I wanted to enjoy some time with the grown-ups. A few people seemed genuinely sad not to see Eleanor.
So let's talk about meal-time with a toddler. Eleanor eats with gusto. She often uses both hands to shovel food into her mouth — both hands in synchronization, mind you — and does not care how much lands in her lap. We have not yet found a bib that can contain the tornadic eating frenzy.
We've recently encouraged Eleanor to use a spoon and fork. She's so used to eating with her hands that she's usually only receptive to this if we give her a food she can't eat well with her hands. Something that spills. She's careful during the first few bites and obviously proud to be eating like an adult. Then she grows impatient and begins to use her free hand to pick up food as well. And then the utensil becomes a paintbrush, and her body becomes a canvas, and we end up with this: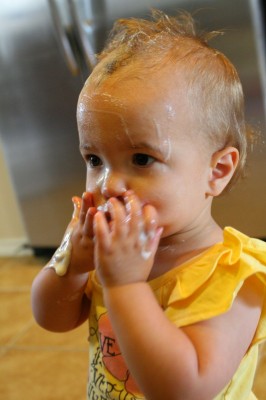 The above mess took less than five minutes to make. So, no, I didn't bring Eleanor to the two-hour lunch yesterday.