Two couples we're friends with moved to new houses last week, so I knew it was time to get into my own kitchen and whip up something for them. When I saw a photo of a snickerdoodle cupcake, I knew that was the thing. I also planned to take some to the neighbors who recently moved in behind us.
I got the recipe from Martha Stewart, and I will just go right ahead and tell you that I don't trust her. Not because of that whole jail thing but because the first recipe of hers that I tried — back in college when I was just getting started with baking — failed. I spent nearly six hours making this layer cake with raspberry filling, but the filling never thickened, and so I ended up with a cake massacre. Soggy layers and red running everywhere. Luckily, the boy I baked it for eventually asked me to marry him, so not all was lost.
Anyway, this recipe makes a lot, so it took me much of an afternoon to bake them all in my one cupcake pan. I decided I would frost them Saturday right before we drove around to deliver them. I didn't use Martha's frosting recipe because I don't have a candy thermometer, so I found a recipe on Smitten Kitchen instead. My first batch of frosting came out so-so. But my second batch. Oh my. Some of us took our shirts off.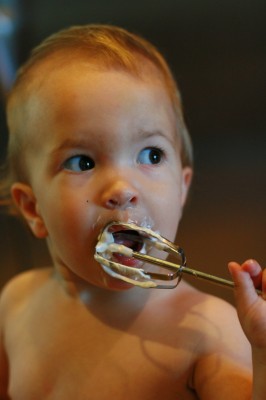 It was wonderfully glossy and tasted so good. But why did I make two batches of frosting? Well, as we were getting ready to make our second cupcake delivery, we learned that our friend John had gotten a concussion while shopping at IKEA. Yup. So he would not be eating any cupcakes because he would be sitting in the emergency room instead. By Sunday, he felt ready for cake.
I had left a few cupcakes unfrosted in our fridge and decided that I should make more frosting so the cupcakes wouldn't seem quite so stale. Having spent parts of three days assembling cupcakes (while fighting off a cold, too), I finally tried one. Ho-hum. Yes, I didn't like it that much. The thing is that I adore snickerdoodle cookies. And this cupcake didn't seem a good approximation. Whereas snickerdoodles are really just sugar cookies dusted with cinnamon and sugar, this was a cinnamon cupcake. Yesterday, I gave the snickerdoodle cupcake a second chance. My cold was disappearing, the kitchen was clean, and Eleanor was at the baby-sitter. Under these more favorable circumstances, I really liked the cupcake. I still don't think it resembles a snickerdoodle cookie, but it's a good cinnamon cupcake. And if nothing else, you must try the frosting. It would be divine on chocolate cake. Or just on your fingers.