All last week, I desperately wanted cinnamon rolls, but they needed to be homemade. I'm a food snob. I make no apologies for that. I finally got all the ingredients together and decided I would prepare them Saturday night and bake them Sunday morning for breakfast. But by the time we put Eleanor to bed Saturday, and cleaned up our every-counter-is-covered kitchen, and picked up the toys from our tornadic toddler, I knew that the couch was the only place I wanted to spend the evening.
So, no cinnamon rolls. But, I just happen to be married to a good man. And that good man got up before 6 a.m. Sunday. Hours before sunrise, I tell you, and made cinnamon rolls. When I came downstairs, he asked me which pans he should use for baking, and I pulled out two pans because he had made a recipe for 18 rolls. Had I advised him previously that I would only be making a half-recipe? Yes. Did he listen? No. Well, actually he did listen, but how could a person ever have too many cinnamon rolls? We definitely needed 18 rolls.
I was a little nervous about this cinnamon roll production because Greg spends very little time cooking these days. He used to do some baking, but now he usually entertains Eleanor while I cook and bake. And the last time he tried to make cinnamon rolls, the dough never rose. I didn't want to discourage him though, so I stayed clear of the project. The recipe directions told him to put the cinnamon rolls pretty close together in the pan. The photos, however, showed that the rolls should be put at least an inch apart to give the dough space to rise. Greg didn't look at the photos.
I've done enough baking to know that any dough you put into a hot oven will expand. Greg has done far less baking. But he is a man with an advanced engineering degree. A man who has breezed through advanced chemistry and math courses.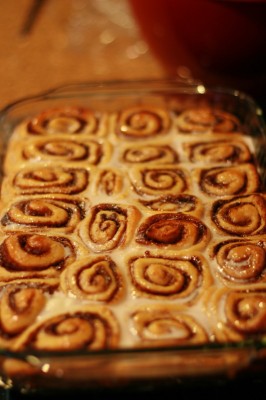 Yet somehow, he missed the part about the expanding dough. He squeezed every single roll into one pan, so tightly packed that the poor things suffocated. I do feel short-changed because I had so longed for that puffy, buttery roll. And I feel even worse for Greg because he spent three hours preparing these emaciated things. They're still edible, but they're not the lofty cinnamon dream I wanted. Greg says he likes them because you can eat multiples and it hardly seems like you've eaten anything. But isn't the point to taste every artery-clogging droplet of butter?