Dear Eleanor,
This letter is late. But, you better get used to that. I'm not your mom.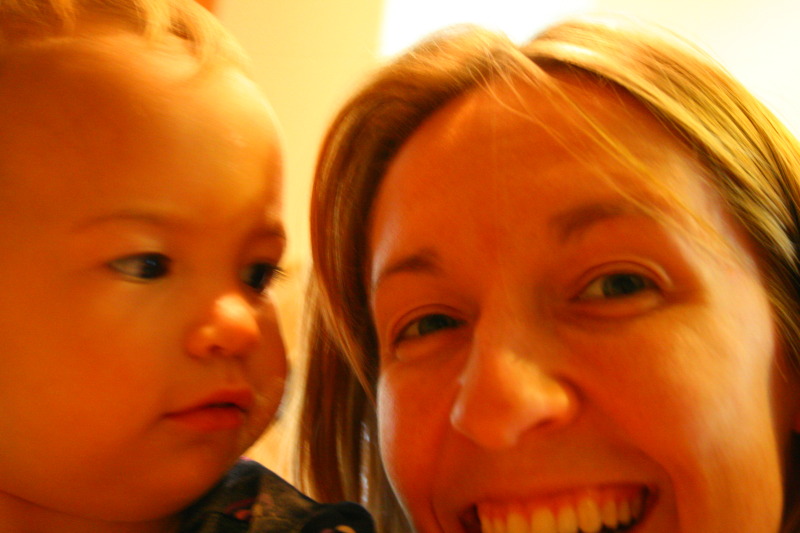 Nor are you, but you try so hard to be. You've started packing a lunch, getting your stuff together and then going to the door to say good-bye before heading off to work. I don't know where you think you're going, but the balloon is a nice touch.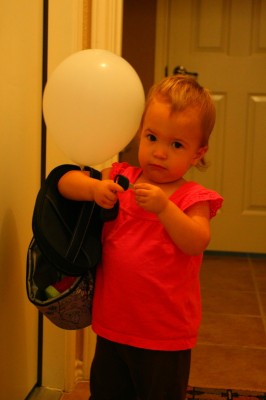 Late last month, your Uncle Christopher came to visit. He arrived after you fell asleep. The next morning you woke before he did, taking advantage of those good morning hours to get in some serious play before everyone else gets up. And so, when he finally appeared looming in the kitchen for the first time, you were taken aback. At first, you thought it was Dad, but soon the realization hit that a very tall man had entered the house unseen and without warning from Abe. The obvious response was to run, which you did. Straight into the office, throwing yourself on the floor and crying, because, really, where else was there to go after that? We all laughed and only felt a little bad doing so. It wasn't long though and you were out on a walk with him, holding hands and showing off all of the acorns we have in the neighborhood.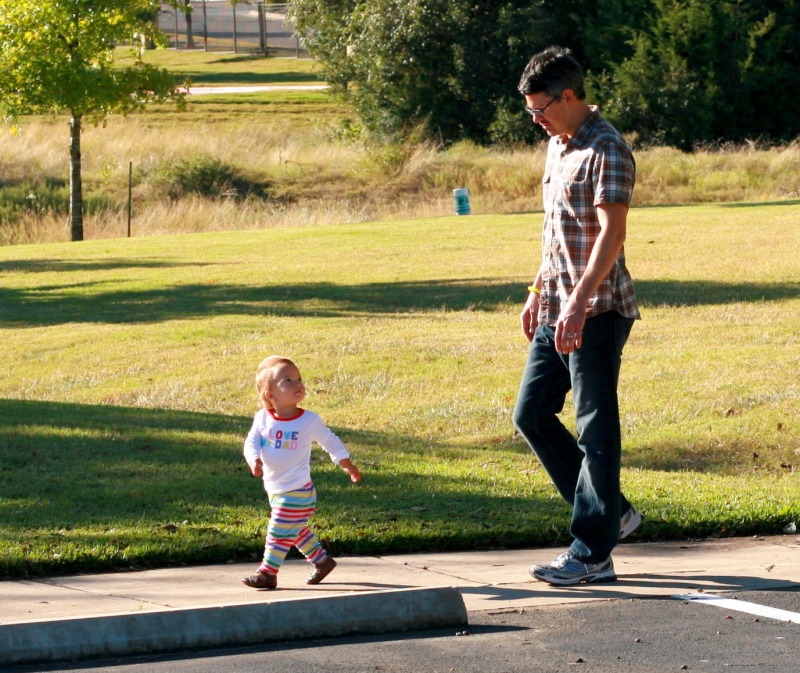 And you do know all of those acorns, since you've spent the last month picking them up. You're no longer content to just ride in the stroller or even just walk to the park. Now we are going everywhere, exploring the world and cleaning it up, one acorn at a time. Your mother and I always hoped you'd make a difference in this world. We never realized it would be so soon.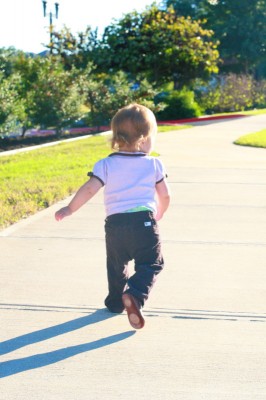 The one place you are content to ride is on my shoulders. And after we've walked half a mile, it's the only place to be. I imagine it's fun being so much taller and seeing the world from such a different angle. That different angle is something we both get out of this relationship.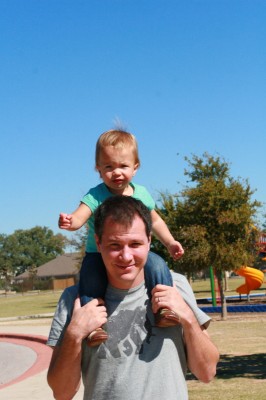 That height also helps when cooking. You've ventured beyond mixing a lemon and a lime in a pot with an unopened bottle of spice, and are now helping Mom to bake. And reminding her that baking is best when it gets messy.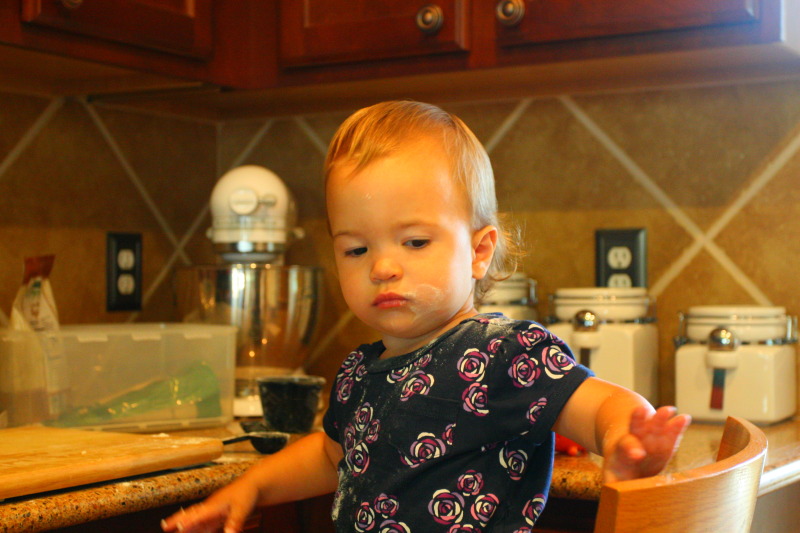 But really, the best skill you've learned this month is how to ride a big girl swing all by yourself. And that has made time at the park so much better. It did take a while to convince Mom that you could hold on, but now even she will give you a push or two.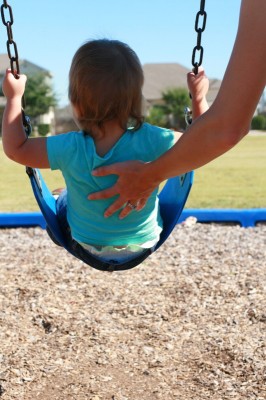 This month was also Halloween. You dressed as a giraffe. Scratch that. A very cute giraffe. We sat on the front porch handing out candy together. You were awed by all the other kids coming around, and even inserted yourself into a few group pictures. Given the choice of collecting candy or seeing so many little kids come up, I'm not sure which you would have picked. I like to think it would be sitting on the stoop with me.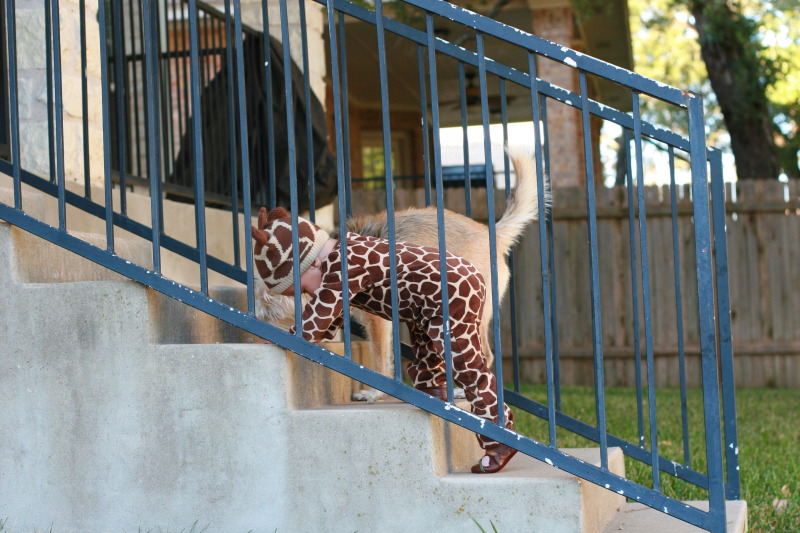 Looking back, twenty months with you seems like a crazy long time and not enough.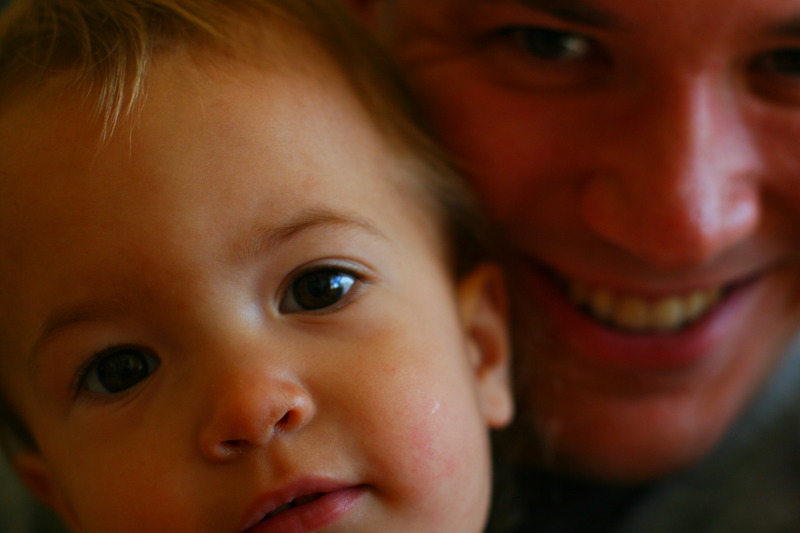 Love,
Dad