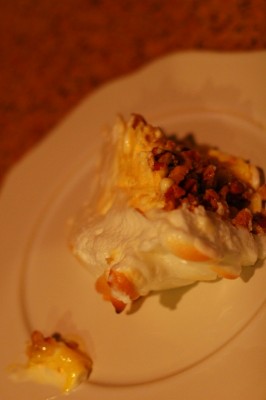 Should we talk about this? Yes, I think we should. I'm sorry the photo of this frozen lemon meringue pie didn't turn out better, but trust me when I tell you that you need to make this. It will look prettier in person.
This recipe takes your humble lemon meringue pie, which I do adore, and turns it into the pie to end all pies. Pecan crust? Yup. Two layers of ice cream? Yes, indeed. This is the pie you request if you're on your death bed. Or the pie you make for your spouse if you've just crashed the new car (Don't worry, Greg. The car is safely parked in the garage.).
Yes, it will take you a day of running in and out of your kitchen to put this pie together, but that will give you a darn good excuse to eat the whole thing yourself. I've made this pie one time each summer for the past few years. Any more than that would be gluttonous.
I fear I might have started too early this year because we've still got four months of heat stretching in front of us. But you could make this pie and share a slice with me. We wouldn't call that gluttony. We'd call it true friendship.
(P.S. If you look at the instructions, you'll see that you stick the whole pie — ice cream and all — into a 500-degree oven. Invite your friends over to watch. They will be amazed!)
Lemon curd
2 large eggs
2 large egg yolks
6 tablespoons (3/4 stick) unsalted butter
1 cup sugar
6 tablespoons fresh lemon juice
2 teaspoons finely grated lemon peel
Pinch of salt
Crust
1 1/2 cups finely chopped pecans
1/4 cup sugar
1/4 cup butter, melted
3 cups vanilla ice cream, slightly softened, divided
Meringue
4 large egg whites, room temperature
Pinch of cream of tartar
6 tablespoons sugar
For lemon curd:
Whisk eggs and egg yolks in medium bowl. Melt butter in medium metal bowl set over large saucepan of simmering water. Whisk in sugar, lemon juice, lemon peel, and salt; gradually whisk in egg mixture. Whisk until thick, about 8 minutes. Transfer to small bowl. Press plastic wrap on top of curd; chill 4 hours.
For crust:
Preheat oven to 400°F. Mix pecans, sugar, and butter in medium bowl until moistened. Press pecan mixture onto bottom and up sides of 9-inch-diameter glass pie dish. Bake until crust is lightly toasted, about 12 minutes (crust will slip down sides of dish). Use back of spoon to press crust back into place. Cool crust on rack. Freeze crust 30 minutes.
Dollop 1 1/2 cups ice cream over crust; spread into even layer. Spread lemon curd over ice cream; freeze until firm, about 2 hours. Dollop 1 1/2 cups softened ice cream over lemon curd; spread into even layer. Cover and freeze until firm, about 2 hours.
For meringue:
Using electric mixer, beat egg whites in medium bowl until frothy. Beat in cream of tartar. With mixer running, gradually add sugar. Beat until stiff peaks form. Spoon meringue over pie, spreading to seal at edges and swirling decoratively. Using kitchen butane torch, toast meringue until golden in spots or place pie in a preheated 500°F oven until meringue is golden in spots, watching to prevent burning, about 3 minutes. Serve immediately.