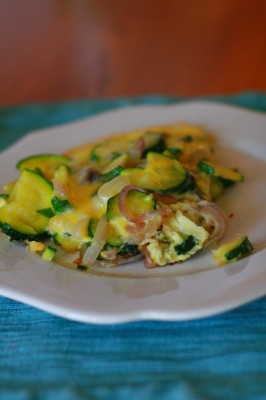 Whew, I've got a case of pregnancy brain here. I had to look up the spelling for both words in that title. I say frittata; you say fritatta (Oddly enough, my spell check insists that both versions are wrong.).
We had a tasty dinner the other night from a frittata recipe I found on Orangette. And it was so easy. Just brown some onions and zucchini and add your eggs and pecorino cheese. The recipe calls for basil, but you could use whatever herb strikes your fancy.
The directions call for sliding the frittata out of the skillet and then flipping it back into the skillet. I knew exactly what sort of mess that would lead to: one very happy dog lapping egg from my kitchen floor. Instead of flipping the frittata, I covered the pan with a lid until the eggs set. If your pan is oven-safe, you could slide it under a broiler.
And the best part? Eleanor loved this. She couldn't get it into her mouth fast enough. When I saw her scarfing it down, I told Greg I had to write about this recipe.
"Oh, is that your criteria now?" he asked, sounding dubious.
Yes, I think it might be. Eleanor steers clear of some good meals, but she definitely won't touch a bad meal, so anything she eats has to be at least somewhat tasty. She's our quality control.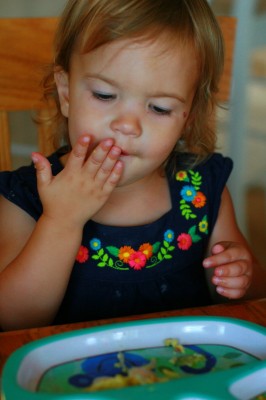 3 Tbs olive oil
1 red onion, halved and thinly sliced
1-1 ½ lb zucchini, thinly sliced into half-circles
2 Tbs fresh basil, chopped
6 large eggs
salt and pepper
½ cup Pecorino Romano, grated
In a 12-inch nonstick skillet, heat 2 Tbs olive oil over medium heat. Sauté onions until wilted, about 5 minutes. Add zucchini and cook, stirring occasionally, until tender, about 10 minutes. Add basil and remove from heat. Drain in colander.
Crack eggs into a medium bowl and whisk with a fork. Add salt and pepper and cheese, stirring to mix. Add zucchini and onion and stir to mix evenly.
Heat remaining oil over medium heat. Add egg mixture, using fork to distribute evenly over pan. Reduce heat to low and cook until set, 12 to 15 minutes or so. Remove from heat and slide frittata onto a large plate. Place skillet over plate, and invert frittata back into skillet. Cook a few minutes more. Or do what I did and just cover the pan with a lid to get the top to set.