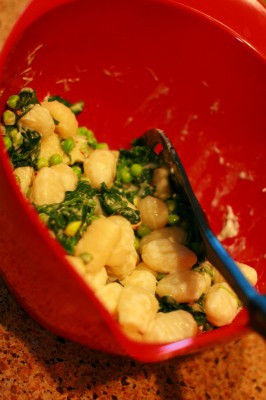 In an effort to prove that we eat more than just pastry around here, I'd like to present this lemon gnocchi. Everyone in our family adores lemons. OK, so maybe one of our family members doesn't, but he thinks that everything should be bacon-and-peanut-butter flavored, so you might not want to trust him. This recipe from Epicurious is so quick and easy, and if you can overlook the bit of cream and cheese in it, this is healthy, too.
I think that asparagus might be good in here, but my child already has to pick through the spinach to find the peas, and I don't want to make her life any harder. Be careful to remove the smashed garlic clove when you're done cooking this because it likes to hide among the gnocchi. It will leave you with dragon breath for days.
1 cup frozen baby peas (not thawed)
1/2 cup heavy cream
1/4 teaspoon dried hot red-pepper flakes
1 garlic clove, smashed
3 cups packed baby spinach (3 ounces)
1 teaspoon grated lemon zest
1 1/2 teaspoons fresh lemon juice
1 pound dried gnocchi (preferably De Cecco)
1/4 cup grated parmesan
Cook gnocchi in a pot of boiling salted water. Reserve 1/2 cup pasta-cooking water, then drain gnocchi.
Simmer peas with cream, red-pepper flakes, garlic, and 1/4 teaspoon salt in a 12-inch heavy skillet, covered, until tender, about 5 minutes.
Add spinach and cook over medium-low heat, uncovered, stirring, until wilted. Remove from heat and stir in lemon zest and juice.
Add gnocchi to sauce with cheese and some of reserved cooking water and stir to coat.