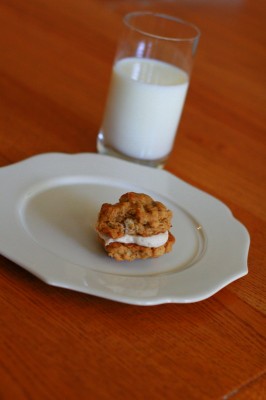 These oatmeal cream pies could have been a big mistake. Save yourselves. Do not make these unless you have places to go and people to see, preferably people who will stop you from eating a dozen oatmeal cream pies by yourself. I made these for a pool party over the weekend with a recipe I stumbled upon at Eat, Live, Run. Even the prospect of sitting around in Spandex didn't hold people back.
Greg and I adore the packaged oatmeal pies more than reasonable adults should. These cookies are nothing like those, but I doubt you'll hear complaints. The cookies are soft, but not crumble-in-your-hands soft, and the cinnamon-laced filling is divine. I'm sure the frosting would be wonderful on a carrot cake or even some yellow cupcakes.
The recipe says that it makes 18 sandwich cookies, but I only got 12. Greg lamented that sandwich cookies are sort of a bum deal because you get half as many servings. But at least twice as much goodness, I say.
For cookies:
1 stick butter, softened
3/4 cup packed brown sugar
1 egg
1 tsp vanilla extract
1 1/4 cup flour
1 1/2 cups old fashioned oats
1/2 tsp baking soda
1/2 tsp salt
1/4 tsp cinnamon
For cream filling:
1 stick butter, softened
3 cups powdered sugar
1/2 tsp cinnamon
2 tsp milk
2 tsp vanilla extract
Preheat oven to 375.
Mix together the flour, oats, baking soda, salt and cinnamon in a large bowl. Set aside.
Cream together the butter and brown sugar. Add the egg and mix until smooth, then add the vanilla. Add the dry ingredients and mix until just combined.
Bake 1 tablespoon-sized balls of dough on a lined baking sheet for 8-10 minutes, or until lightly golden. Let cool while preparing the filling.
For the filling, cream together the powdered sugar and butter until smooth. Add the cinnamon, vanilla extract and milk and whip on high speed for five minute until very light and fluffy.
To prepare cream pies, pipe (using a pastry bag or plastic bag) small dollops of frosting on a cookie and sandwich another cookie on top. Cookies will stay fresh in a sealed container for three days but they are best eaten the same day they are baked. As if you'll be able to stop yourself.