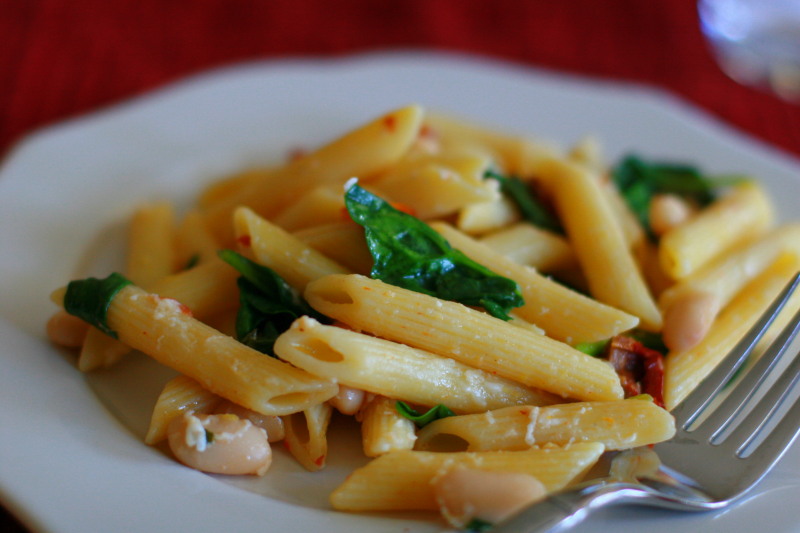 When Greg and I were in college, we consumed ridiculous amounts of pasta. Enough pasta to fuel marathons.
Actually, before meeting Greg, I stuck mostly to microwave dinners and sandwiches, but Greg was a bit of a snob, at least by college eating standards. He told me that he didn't eat microwave dinners. He might have stuck his nose into the air as he said that. I can't remember. He also wasn't much of a fan of sandwiches — and still isn't — with the exception of peanut butter and jelly, which he will eat day after day. In fact, on the nights that I work he often eats peanut butter and jelly instead of the leftovers I leave. Is that a testament to the quality of the leftovers or to his love of PB&J?
Anyway, after we started dating, the only foods we seemed to agree on were macaroni and cheese and spaghetti with marinara sauce. So we ate one of those two almost nightly. And Eleanor seems to have inherited our love of pasta, so I've made a lot of pasta dishes lately, but I'm trying to branch out from tomato sauce.
This penne recipe I found at Eat, Live, Run is healthy and light, perfect for a summer dinner. The lemon, garlic and sun-dried tomatoes give it a lively flavor and keep it from tasting too healthy. This didn't do great on re-heating — too dry — so you might want to just make enough for one meal, lest you be stuck tossing the leftovers and eating PB&J.
3/4 lb dry penne pasta
1 T olive oil
2 garlic cloves, minced
1/4 cup sundried tomatoes, chopped
1 can cannellini beans, drained and rinsed
3 cups baby spinach
zest of one lemon
juice of two lemons
1 tsp salt
1/4 tsp cayenne pepper
1/4 cup freshly grated parmesan cheese (or more to taste)
Cook the pasta in boiling salted water. When cooked, drain and reserve one half cup of cooking liquid. Set aside.
In a large skillet or dutch oven, heat the olive oil. Add the minced garlic and saute for two minutes, until fragrant. Add the cooked pasta, beans, sundried tomatoes and spinach and cook until spinach wilts. Add the lemon zest, juice, salt, cayenne and cheese and toss well. Add some of the cooking water if the mixture seems dry.