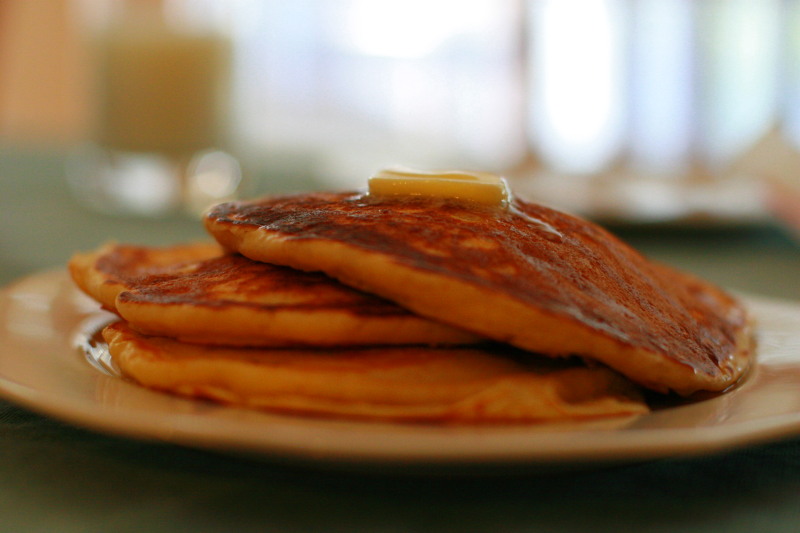 Have I mentioned that I'm a picky eater? One of the many foods on my dislike list is bananas. I can't abide that mushy texture, though I don't mind the flavor. Bananas have been a favorite of Eleanor's lately though, so Greg bought a big bunch of them last week, a ridiculous bunch, really. Eight? Nine? Enough to feed a monkey rather than a human toddler, and they were covered in brown spots after about two days.
Also, have I mentioned that Greg always buys too many bananas? He thinks he's being sneaky, but I'm onto his ploy. Spoiled bananas lead to banana bread.
But not this time. Instead I made banana pancakes with this Gourmet recipe on Epicurious, because I think that bananas are perfectly acceptable if you mash them up, cook them and bathe them in syrup.
I skipped the macadamia nuts because I didn't have any, though they are very good in these pancakes. I used pecans instead, and I doubled the amount of bananas. This recipe makes a fluffy, golden pancake.
1 1/2 cups all-purpose flour
3 tablespoons sugar
1 1/2 teaspoons baking powder
1/2 teaspoon baking soda
1/4 teaspoon salt
1 1/2 cups well-shaken buttermilk
3 tablespoons unsalted butter, melted
2 large eggs
1 teaspoon vanilla
1 ripe large banana
1/2 cup salted roasted macadamia nuts (2 1/2 oz), chopped
Whisk together flour, sugar, baking powder, baking soda, and salt. Whisk together buttermilk, 2 tablespoons melted butter, eggs, and vanilla in a large bowl until smooth. Add flour mixture and whisk until just combined. Cut banana into bits and fold into batter along with nuts.
Brush a nonstick skillet with some of remaining tablespoon melted butter and heat over moderate heat. Pour 1/4 cup batter per pancake into hot skillet and cook until bubbles appear on surface and undersides are golden brown, 1 to 2 minutes. Flip pancakes with a spatula and cook until golden brown and cooked through, 1 to 2 minutes more.