Greg helped me set up this blog in 2005 when I was going through a rough time. We had recently moved to Austin, and after searching for a job for several months, I accepted a temporary position that heaped on me even more misery than my unemployment had. I didn't have any friends, and we lived in the suburbs surrounded by people we had nothing in common with. This blog was my one place to focus on the positive and funny events in my life.
Until three weeks ago, I had never written anything sad or angry here. My life is so much better now than it was in 2005. I have wonderful friends, and I'm getting to know our neighbors, who I now have much more in common with. But I'm also in a phase of huge upheaval. In a few months, I will lose my job, a job that I very much like, because of consolidation. And losing Genevieve has forever changed me, probably in some ways that I haven't even recognized yet.
Still, I want to focus on the good things. The beautiful things. Because I think my anguish has only clarified the beauty in my life.
With that said, I'm going to talk about meat. Huge quantities of meat. Greg and I went to dinner last night at Hudson's on the Bend to celebrate our upcoming (eighth!) anniversary. We'd been to Hudson's once before and had always meant to go back. Though we mostly avoid meat, Hudson's is a great place to go for a splurge because they have almost any meat you could want. Rattlesnake. Alligator. Dinosaur. OK, no dinosaur (yet).
I wanted to take a camera, but we forgot about that, so you're going to have to settle for a verbal description of our meal.
We had an amuse-bouche of chilled cantaloupe-coconut soup. At least that's what I think the waiter said. It was a thick, tropical concoction with a hint of heat to it.
I then had the chipotle lobster bisque with puff pastry, and Greg had the wild boar quesadillas with goat cheese, pickled onions and avocados because I told him to.
For my main course, I had the mixed grill. That included venison and rabbit tenders, mixed game sausage, quail with lime-cilantro-ginger glaze, and achiote-marinated buffalo. The sides were corn bread pudding and a veggie medley. The quail was so good. I wish I could have bathed all my meat in that lime glaze. I'd never had rabbit before, and frankly, rabbit is a bit tough. But I'm happy that I didn't like the rabbit because rabbits are so cute. We really shouldn't eat them. Greg had a pork chop with watermelon salsa. The side was a grilled peach stuffed with goat cheese. I'm going to try to replicate the peach at home, and I'd suggest that you do the same.
For dessert, we shared a slice of pecan pie dipped in chocolate. Yes, that was a little indulgent.
Well, if you're a vegetarian, I've probably completely offended you by now. And if you're my (slightly crazy) sister-in-law, who has started the (slightly crazy) Paleo diet, then here are photos of the leftovers: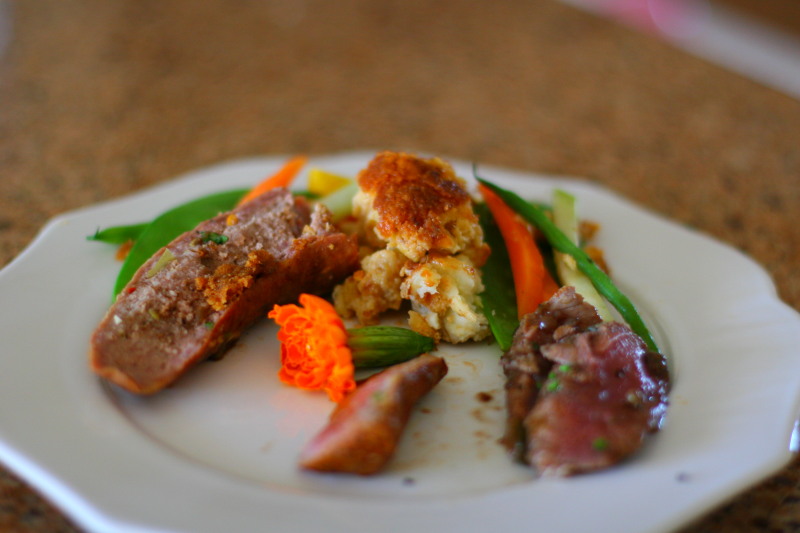 (Mixed grill.)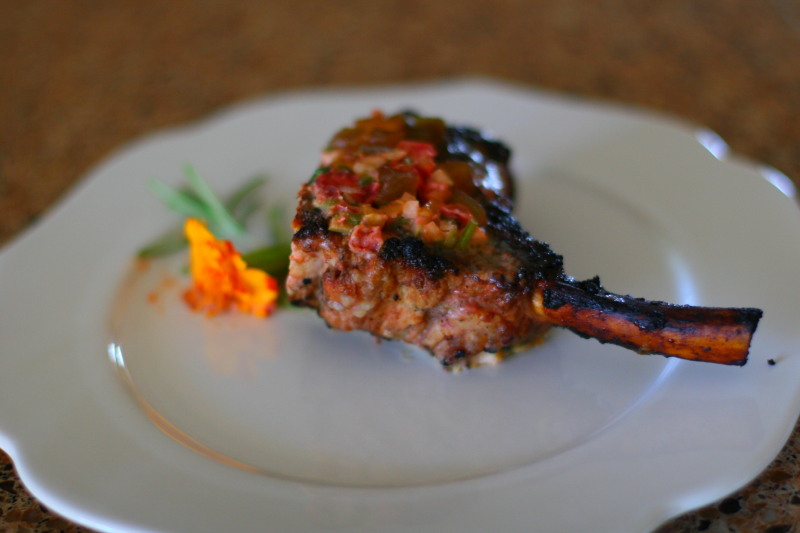 (Pork chop. Sadly, no leftover peach.)