Do you prefer tuna sandwiches or peanut butter cookies? I agree.
But I'm in mourning, and writing about cookies still feels unseemly, so I'll start with tuna. As some of you know, I don't like mayonnaise, a flaw that I expect will doom my aspirations of becoming a restaurant reviewer. Mayonnaise shows up everywhere. Sure, some places try to disguise it with fancy names like aioli, but I'm onto that trick. And it's nearly impossible to find a tuna sandwich without mayo, so when I stumbled across a good one a few years ago, it fell into my regular cooking rotation.
This Gourmet recipe from Epicurious is wonderful because it uses some dressed-up beans to add flavor and a creamy texture. You don't have to be precise about the measurements. I usually halve the amount of tuna because I like equal parts beans and tuna, but you can follow the recipe if you want just a thin layer of beans. And I know this all looks really healthy, but it tastes so good that you won't mind.
For the beans:
1 (14- to 15-oz) can cannellini beans, rinsed and drained
2 garlic cloves, finely chopped
1 tablespoon fresh lemon juice
2 tablespoons olive oil
2 tablespoons chopped fresh flat-leaf parsley or basil
1/4 teaspoon salt
1/4 teaspoon black pepper
For the tuna:
2 (6-oz) cans tuna in oil, drained
2 tablespoons finely chopped fresh basil or flat-leaf parsley
1/4 cup pitted Kalamata or other brine-cured black olives, finely chopped
1 celery rib, finely chopped
2 tablespoons finely chopped red onion
2 tablespoons olive oil
1 tablespoon fresh lemon juice
1/4 teaspoon salt
1/8 teaspoon black pepper
Mash the beans and stir in the other listed ingredients. Mix the tuna with the remaining ingredients. Assemble on bread. So easy it hardly needs instructions.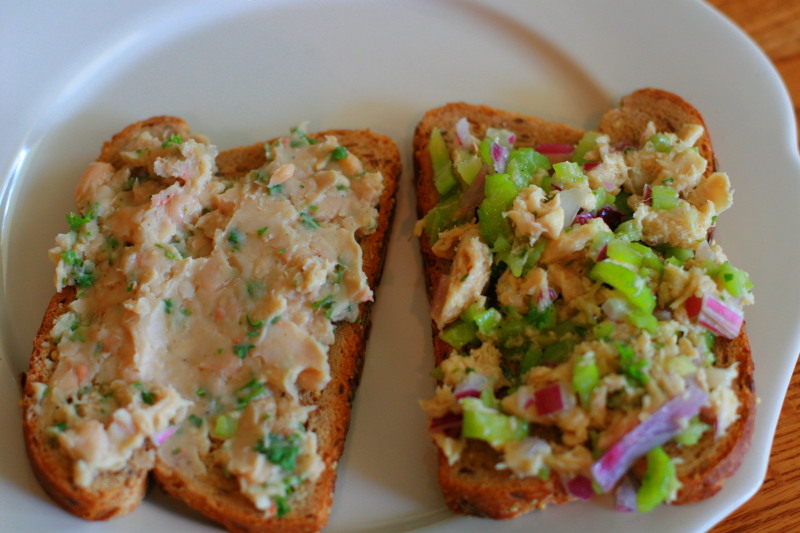 (Pre-smoosh.)