A couple of years ago, The New York Times ran a collection of 101 salad recipes put together by writer Mark Bittman. That list changed the way I think about cooking. All the recipes require just a few ingredients and minimal cooking (or none!). And they don't include measurements, so you can feel like a real chef as you sample your salad, add a dash of this or that, and sample again. You can easily assemble two of these salads and call it a meal. Plus, the colors are stunning, like a circus on your plate.
Several weeks ago, I delved into the collection again. I made No. 2 on the list, a tomato and peach salad. Weird, right? It was surprisingly good.
Here's a rough breakdown of the ingredients:
2 peaches, chopped
2 large tomatoes, chopped
1/2 cup red onion, thinly sliced
1/4 teaspoon red pepper flakes
2 T cilantro, chopped
juice of 1/2 a lemon (you can also use lime)
olive oil, pepper and salt to taste
Mix it all together and serve.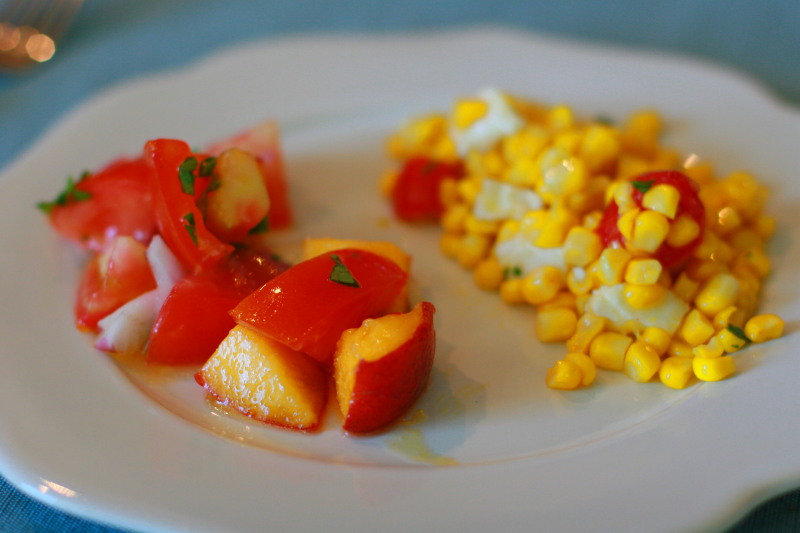 That little ditty on the right is a roasted corn salad, which we make fairly often in the summer. It's No. 39 on the list.
Two ears of corn
1/2 cup cherry tomatoes, cut in half
1/8 teaspoon cayenne
juice of one lime
1/2 cup queso fresco or feta cheese
salt and pepper
Cut the kernels off the ears of corn and saute in a skillet with a bit of olive oil for 8 to 10 minutes. Toss with remaining ingredients and serve.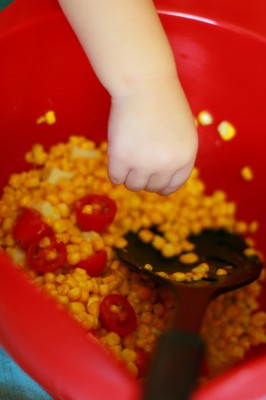 (Pardon Eleanor's reach.)