You can see the title up there and then that photo down below, so you've been warned. If you read beyond this sentence, I am not responsible for your actions.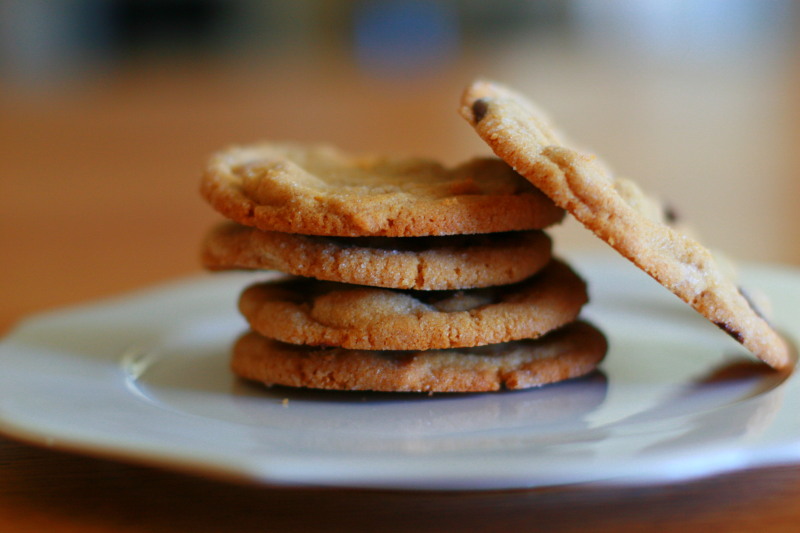 This recipe comes from the Smitten Kitchen blog, and this definitely falls into my top five favorite cookie recipes. The cookies in my photo look a little flat, I know, but don't blame the recipe. It's the baking sheet, I tell you. Yes, you would think that someone who bakes as many cookies as I do would invest in a couple of quality baking sheets. My birthday is in February; thanks for asking.
As if a peanut butter cookie isn't indulgent enough, these also have peanut butter chips and chocolate chips. The texture is divine, soft in the center and slightly crispy on the edges.
So without further ado, the recipe:
1 1/4 cups flour
3/4 teaspoon baking soda
1/2 teaspoon baking powder
1/4 teaspoon salt
1/2 cup unsalted butter, softened
1 cup peanut butter at room temperature (NOT the organic, stirring-required kind)
1/2 cup packed light brown sugar
1 large egg, at room temperature
1 tablespoon milk
1 teaspoon vanilla extract
1/2 cup peanut butter chips
1/2 cup chocolate chips
Preheat the oven to 350 degrees. Combine the flour, baking soda, baking powder and salt. In a different bowl, beat the butter and peanut butter until fluffy. Add the sugars and mix until smooth. Then add the egg, milk and vanilla and mix. Dump in the flour mixture and beat well. Stir in the peanut butter chips and chocolate chips.
Put about a tablespoon of sugar on a plate. Gather the dough into teaspoonful-sized balls and roll in the sugar. Place on an ungreased cookie sheet, and use a fork to make a criss-cross pattern in each cookie, partially flattening it. Or use a spoon to flatten the dough if you don't want creases. Bake for 10 to 12 minutes. I would suggest closer to 10 minutes unless your cookies are large. The cookies shouldn't look quite done when you pull them out, but they bake a little after coming out of the oven and will firm up. Let cool for a minute or two and then move to a rack to cool completely.
Try not to eat all in one sitting.