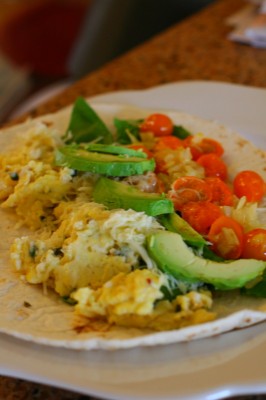 What criteria do you use when evaluating a recipe. I have four main categories I consider: taste, ease, nutrition and appearance. These burritos might have wrangled a perfect score if only I hadn't dirtied so much of my kitchen preparing them. I admit that I chose this recipe from the Sprouted Kitchen blog for reasons of vanity. These burritos are beautiful, and it's not often that you can say that about Mexican food. Refried beans, anyone?
I suppose these fall into the breakfast category because of the eggs, but if you awaken each morning with a lion-like hunger, as I do, you probably won't have the patience to make these in the morning. Roar! We had them for dinner.
I've adapted the recipe slightly because the original called for 10 eggs, and we do not own a chicken.
6 or 7 eggs
Scant 1/4 cup milk
1/3 cup chopped basil and cilantro
sea salt, pepper and red pepper flakes
2 cups cherry tomatoes, halved
1 Tbsp. olive oil
3/4 cup onion, diced
sea salt
2 cups baby spinach
1 cup pepperjack cheese, shredded
1 large avocado
Burrito-size tortillas
Preheat your oven to 350 degrees. Combine tomatoes, onions, olive oil and a pinch of the salt, pepper and red pepper. Spread on a baking sheet and roast in the oven for 20 to 25 minutes.
Meanwhile, combine the eggs, milk and salt. Cook in a skillet over medium-low heat. I learned with this recipe that cooking the eggs at a low temperature will yield a softer, more moist texture. Your patience will be rewarded. When the eggs are almost set, add the herbs.
Warm your tortillas in the microwave for a few seconds (or on a skillet, if you don't mind using another pan). On each tortilla, add a handful of spinach, then put down the tomato mixture and the eggs. Top with cheese and avocado and roll up. Magnifique!