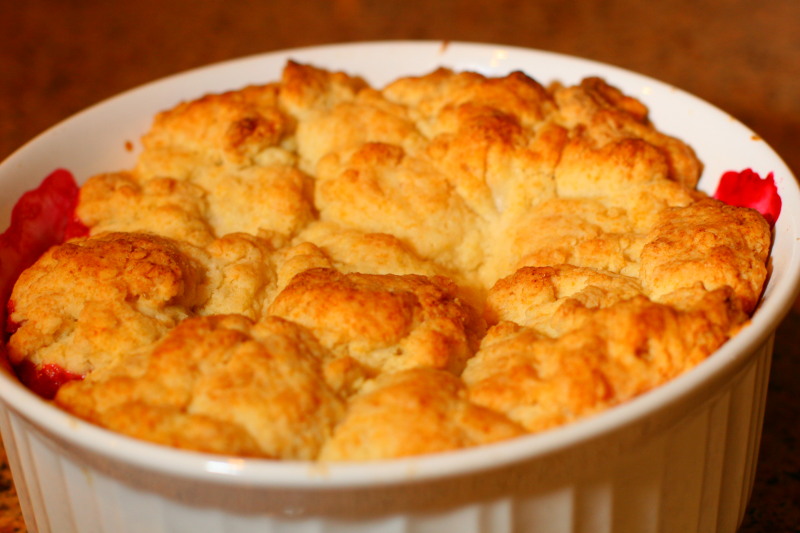 We suffered through a stretch of mediocre meals here, but then I made this. And this, dear people of the Internet, can right any wrongs you commit in the kitchen.
This won't win any beauty contests, though the crimson berries look lovely on a background of vanilla ice cream. When we cut into ours, fruit and juice spilled everywhere. But if you can accept a dessert that's more Jackson Pollack than Michelangelo, you will be rewarded. The topping has a buttery scone-like texture that is a perfect contrast to the sweet berries.
I'm not big on berries and usually avoid blueberries and blackberries, but I can see making this on a regular basis during the summer. The recipe was adapted on the Orangette blog from "Chez Panisse Desserts" by Lindsey R. Shere. I used raspberries, blackberries and a few strawberries because I am a doofus. Yes, though I'm happy to tell you how to cook, I myself did not read the recipe directions. She advises against using strawberries because their texture will become chewy. Anyway, I think that using blueberries would reduce the liquid in your finished product.
For fruit:
4 1/2 cups berries
1/3 cup sugar
1 to 1 1/2 Tbsp. flour
For cobbler dough:
1 1/2 cups flour
3/8 tsp. salt
1 1/2 Tbsp. sugar
2 1/4 tsp. baking powder
6 Tbsp. cold unsalted butter
3/4 cup whipping cream
Preheat the oven to 375 degrees.
Mix the berries with the sugar and flour, using more flour for juicier berries. Mix the dry ingredients for the cobbler, and then smash in the butter with your hands or a pastry blender. Mix until it resembles course cornmeal. I don't know why we all still use that cornmeal reference, which seems so old-fashioned. I guess it's more appealing than "wet sand." Add the cream and mix just until everything is moistened.
Dump the berries in a 1 1/2 quart baking dish. The original recipe suggests making little biscuits for the top, but I had enough dough to make a solid top. The topping should be about a 1/2-inch thick. Bake for 35 to 40 minutes, until the topping is golden.