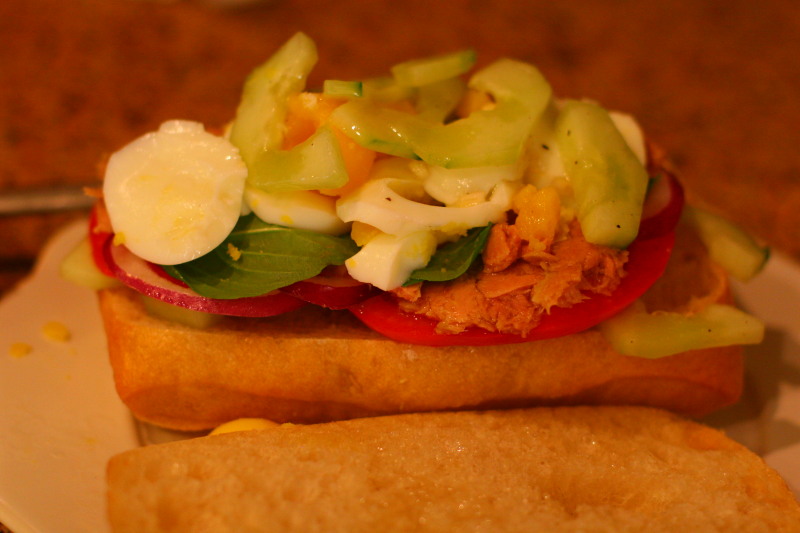 I often spend more than an hour making our weekly grocery list. Is that normal? I begin innocently enough, usually trying to find a nice salad recipe, but then somehow I get off track and spend 45 minutes looking at recipes for ridiculous cupcakes. To bring more focus to the task, I sometimes ask Greg what he would like to eat.
When I asked him earlier this week, he said "how about some sort of sandwich with tuna and maybe some tomatoes?" Awesome! Awesome because I had just looked at an interesting tuna sandwich recipe on The New York Times site.
The trouble with this sandwich is that it is not easy. We tend to be a grilled cheese sort of house. I make sandwiches when I'm too lazy to make anything else, which means that the whole process should take 10 minutes, maybe 15 tops. I mean a sandwich isn't really cooking, right? It's construction work.
This sandwich is some heavy duty construction, and I even skipped a couple of ingredients. But it is far more delicious than your average grilled cheese. There's the tang of the marinated cucumbers, the saltiness of the tuna, the sweetness of the basil, so many flavors dancing together.
The sad thing is that Greg would have been perfectly happy with some tuna and tomatoes slapped on whole wheat. But I just can't stop myself.
Pan Bagnat (adapted from The New York Times)
1 small garlic clove, minced
1 teaspoon red wine vinegar
1/2 teaspoon Dijon mustard
Pinch of salt and pepper
2 tablespoons extra virgin olive oil
1 8-inch round crusty country loaf or small ciabatta, halved
1 Kirby cucumber or 1/2 regular cucumber
1 tomato, sliced
1/2 red onion, sliced
1 5- to 6-ounce pack tuna in olive oil, drained
basil leaves
2 tablespoons sliced pitted olives (I skipped this because we're anti-olive)
2 hard-cooked eggs, peeled and thinly sliced
Whisk together the garlic, vinegar, mustard, olive oil and salt and pepper. Peel and seed the cucumber and thinly slice it. Add it to the vinaigrette. On your bread, spread half the cucumbers, then stack all of the other ingredients. Finish with the remainder of the cucumber mixture and the bread. Wrap each sandwich tightly in foil or plastic wrap and then stack something heavy on top. A cast iron skillet with a filled teapot on top will work. You should let it sit for 7 to 10 minutes on each side, but I skimped on this part because we were really hungry.