Greg and I have talked for the past couple of years about buying a new laptop. The laptop we have is 7(!) years old and still runs like a dream, but it's no longer fast enough to handle a lot of files and videos. Nothing is technically wrong with it though. So every few months, we consider ponying up the money for a new one then decide again that the old one is sufficient.
I thought we had finally reached the tipping point when Greg's work computer was recently upgraded. He had used the laptop at home to connect to his work computer, but the laptop was no longer able to keep up with the faster work computer. Instead of going out to look at laptops, as responsible adults would have done, we shopped for bicycles. Oops!
Greg bought a bike chariot several months ago at a garage sale so that he could haul around Eleanor. I haven't been able to join them because I don't own a bike. Or rather, I didn't own a bike. I had meant to pick one up at a garage sale or on CraigsList, but I never actually look at CraigsList. Or attend garage sales.
So last week, we decided that I was never going to get in gear (Ha! I'm terrible!) on the bike thing, and we went to look at bikes. A little more than an hour later, I became infatuated with a cruiser at our neighborhood bike shop, and there went half the money for a laptop.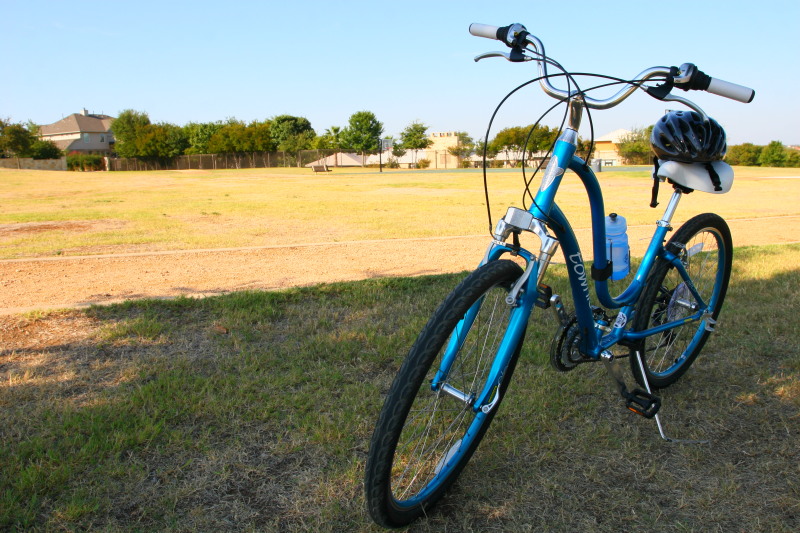 While we were at the store, Greg tried to convince me that we needed a new bike chariot for Eleanor. The inexpensive one we had was too bumpy for her, he said. I rejected the notion. She is 2 years old, not 90. Her joints can handle a bit of bouncing around. Heck, she spends her entire day bouncing around.
The next day, Greg told me that the connector on the chariot was scraping the paint on his bike. Indeed it was. He asked whether I still wanted to hook the chariot to my bike. Oh, vanity! Always my downfall. No, I told him, I did not want the chariot hooked to my bike.
I bought the bike for it's comfort. (But I really, really bought it because it's pretty. Look how pretty!)
So back to the store he went for the new chariot, which has a different attachment mechanism that will leave our bikes unscathed. It's going to be a long, long time until we buy the new laptop.