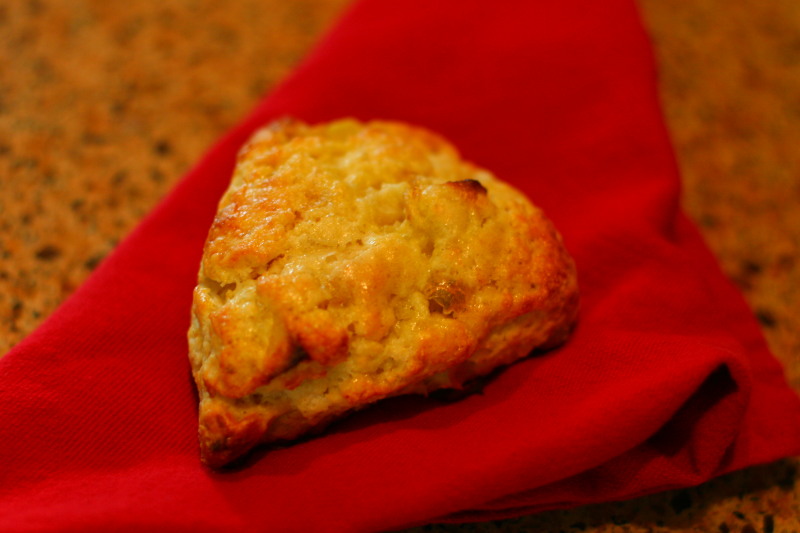 In honor of autumn beginning this week, we have kicked off faux fall in the Muthler household. What's that? You don't celebrate faux fall? Well, it's one of my favorite seasons. The temperature in Austin is now consistently below 100 degrees, and the leaves are, well, a lot of them are falling off of the trees from the drought. So even though we're still able to go to the pool and drink lemonade, we're going to call this season fall. Fire up your ovens!
These apple and cheddar scones are a great way to begin the day — or the season. The recipe came from Smitten Kitchen, and she found it in "The Perfect Finish." Are you wrinkling your nose about the cheese? I generally prefer to keep my sweet and savory foods in separate corners, but Greg first made these last fall, and after giving them a few skeptical pokes, I finally tried them.
The cheddar isn't overpowering. It just adds a richness to the dough and keeps the scones from becoming too sweet. And the egg glaze makes these really shiny and pretty. These are wonderfully delicious even on a 95-degree day.
This makes six large scones
2 tart apples (about one pound)
1 1/2 cups flour
1/4 cup sugar plus 1 1/2 tablespoons for sprinkling
1/2 tablespoon baking powder
1/2 teaspoon salt plus additional for egg wash
6 tablespoons unsalted butter, chilled and cut into 1/2-inch cubes
1/2 cup sharp white cheddar, shredded
1/4 cup heavy cream
2 large eggs
Preheat the oven to 375 degrees and line a baking sheet with parchment paper. Peel and core the apples and cut them into bite-size chunks. Place on the baking sheet and bake until they begin to get a bit golden, about 20 minutes.
Mix the flour, sugar, baking soda and salt together. Place the cooled apples, butter, cheddar, cream and one egg in a mixing bowl. Sprinkle the flour mixture on top, and run your mixer at low speed just until your dough comes together.
On a floured surface, roll out or just use your hands to shape the dough into a six-inch circle. Cut the dough into six wedges and transfer to a baking sheet lined with parchment. Beat the other egg, add a bit of salt, and then brush each scone with the mixture. Sprinkle the remaining 1 1/2 Tbsp. sugar on top of the scones.
Bake until golden, about 30 minutes, but be watchful. I baked mine a few minutes less than this, and even then they came out a bit overdone. Greg now informs me that he thinks our oven runs a bit hot. Now. After six years in this house. Good to know.