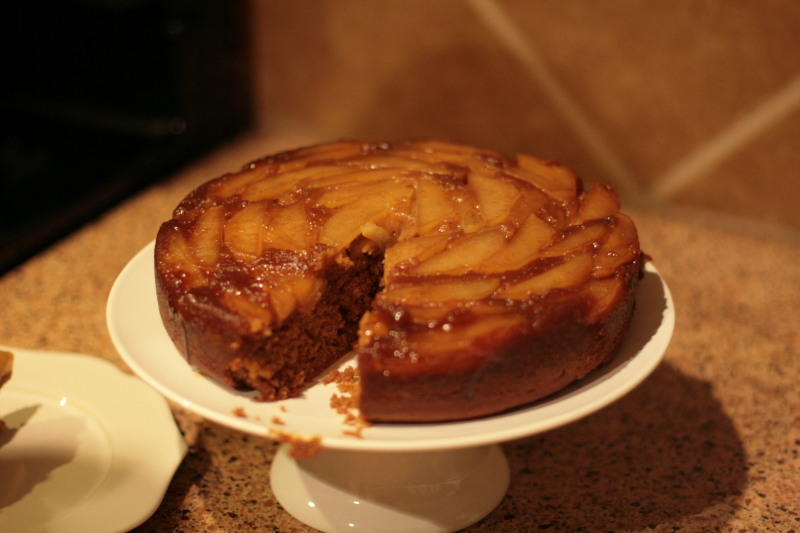 This is probably the last thing you want to look at after Thanksgiving. Or maybe not. I guess it depends on how much leftover pie you have in your fridge.
I made this gingerbread apple cake several weeks ago, and the photos have been languishing beside those from dozens of other meals. Despite my silence on this blog, we have actually been eating three meals a day here. And, occasionally, dessert.
This cake would make a fabulous dessert for a holiday party. Look how pretty it is! Usually, at least some part of my cake adheres to the pan when I'm trying to flip it. I'm left with a falling-apart cake and a bunch of crumbs and must decide how to resurrect the thing. How do you think frosting got invented anyway? It's a cake rescue device.
Anyway, this cake came out ready for a magazine photo shoot. And it was delicious. It kept pretty well in the fridge, too. Why are you still reading? Go buy some apples!
This recipe comes from the Smitten Kitchen blog.
Topping
4 T. butter
1/2 cup dark brown sugar
Pinch of salt
4 apples (about 1 3/4 pounds), peeled, cored and cut into 1/4-inch wedges
Batter
1/2 cup butter, at room temperature
1/2 cup sugar
1 large egg
1/3 cup dark molasses
1/3 cup honey
1 cup buttermilk
2 1/4 cups flour
1 t. baking soda
1/2 t. salt
1 t. ground ginger
1 t. cinnamon
For the topping:
Preheat your oven to 325 and grease a 10-inch cake pan. Melt four tablespoons butter in a saucepan and add brown sugar. Simmer and stir about four minutes. Add the salt. Pour the caramel into your cake pan, and arrange the apple slices in a layer on top. I had to overlap some of my slices.
For the cake:
Using a mixer, cream half-cup butter and sugar until light and fluffy. In a bowl, mix the egg, molasses, honey and buttermilk. In another bowl, blend the flour, baking soda, salt and spices. Alternate adding the two mixtures to the butter mixture in your mixer. Pour the batter into your cake pan, and bake 45 to 50 minutes. Mine even took a bit longer than that. Let your cake cool on a rack for 10 to 15 minutes, then flip it.
The original recipe suggests serving this with a bit of whipped cream, but you could go all out and use vanilla ice cream if you prefer. We did.