For those who don't know, Greg and I have an annual tradition of taking a surprise trip. One of us plans the whole trip, while the other agrees to avoid all credit card statements to maintain the secret. Most people who hear about this think it's a fantastic idea, and the other few say that they would never trust their spouse to plan a vacation for them. And though I've always sided with the first group, I'm starting to think that this whole idea sounds a lot more romantic than it actually is.
This year's trip began last Saturday. Greg had given me a weather report two days before so that I could pack, but every couple of hours his report would change. It was going to be in the 70s and then drop to the 50s. No, wait, it was going to be in the 60s and 50s. And raining. Oops, no, the 50s and the 40s.
We were not going to Aruba.
Greg said that we needed to leave for the airport at 6:30 a.m. Naturally, I awoke at 3 a.m. That is what I do on the night before a trip. I laid in bed worrying whether I had packed the right clothes for Eleanor and myself. We finally got out the door at 6:45. We hit road construction on the way to the airport, which cost us about 10 minutes.
When we got there, the security line snaked all the way through the ropes and then back behind the ticket counter. It was the longest line I had ever seen at the Austin airport, so long that I was hopeful we would all be getting onto a flying Dumbo ride at the end. The people at the end of the line told us it would take at least 30 minutes to get through. It was 7:30, and Greg told me that our flight left at 8:10, and we had a connecting flight, too. We waited. But nearly every time that Greg and I fly, our flights get delayed, so there was definitely hope.
I went through security first, grabbed our rolling suitcase, and sprinted to our gate. My jeans and suede boots were not ideal, but it was a fantastic feeling, as though I were the heroine in a movie. My lungs were burning, and my suitcase tipped off of its wheels, but I just kept dragging it.
And then I could see the gate, and the few people there were yelling "Go, go, go!" But the airline agent wasn't. She was scowling at me. She ordered me to get on the plane, but I told her that I had to wait, that my husband and daughter were just behind me. "How far back are they?" she asked.
"Just a minute or two. They're through security," I said.
"I've already held this plane four minutes," she said, huffily. "They've got two minutes."
I waited, sweat trickling down my body. I dropped the rolling suitcase, left it unattended, unattended in an airport, which probably should have subjected me to life imprisonment, and sprinted back to security.
But it turned out that Greg hadn't make it through security. The electronic thermometer that we had brought in case Eleanor got sick had caused a security alert, so Greg was waiting for our bag to be searched.
Finally, Greg grabbed our bags, and I hoisted Eleanor in my arms, and we all sprinted back to the gate. By then the airline agent had closed the jetway door and came back smiling at us as if we were Brad Pitt and Angelina Jolie. She had morphed into some sort of ticket angel who was going to be so helpful getting us on the next flight that left in SIX hours, and weren't we so grateful?
Six hours later, we finally did board our flight, and about an hour later Eleanor choked on her complimentary cookie and threw up. Awesome.
But where did we go? You've read all this way, and still you don't know. We went to Glacier National Park. It was beautiful.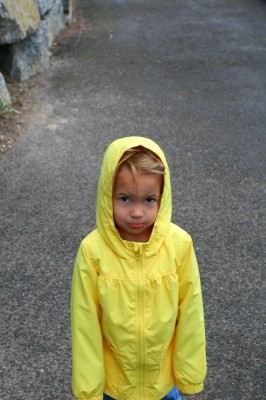 But rainy.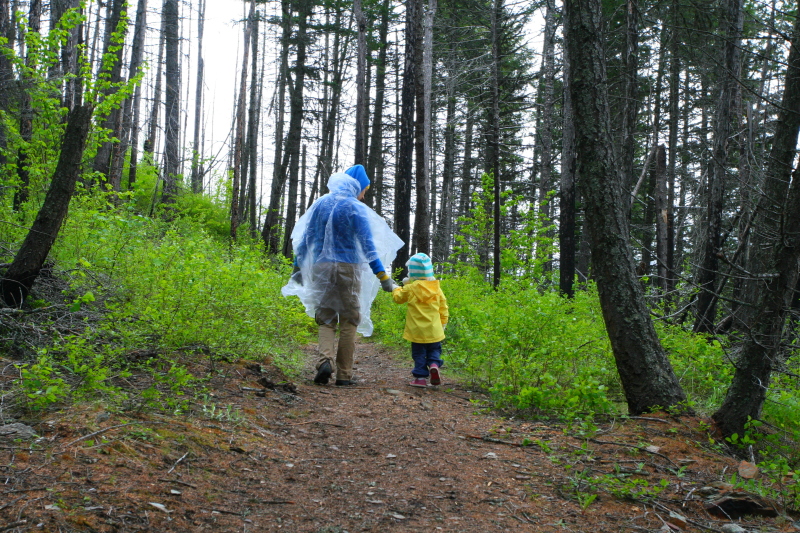 And cold.
Greg thinks that I should upgrade from my garbage bag poncho to a real raincoat, but I am not ashamed. Here is my garbage bag poncho for the world to see.