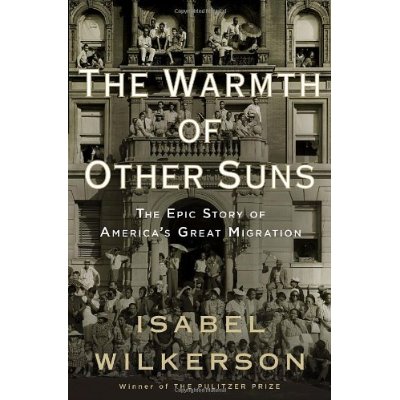 Greg seemed a bit perturbed with my post yesterday. "Aren't you going to write anything else about our vacation?" he asked.
Yes, I am. I'm going to tell you about the book I finished reading during the trip — "The Warmth of Other Suns" by Isabel Wilkerson. I picked it up after a friend mentioned it. She didn't really recommend it, just mentioned that it was really long and she was ready to be finished. Who wouldn't want to read a book like that?
Wilkerson tells the story of the Great Migration, the decades between World War I and the Civil Rights Movement, when millions of black Americans moved from the South to the cities in the North. The book follows the lives of three unrelated people who moved north during the migration. Wilkerson traces their paths from childhood to the end of their lives, and she weaves in stories of their families and friends. The chapters about the main subjects are broken up by portions providing more detail about the migration as a whole — the causes behind the movement and the effects that the population gain and loss had on communities.
This book was so thorough that it could have been a person's life work, and Wilkerson did pour many years into it. She began interviewing her subjects in the mid-1990s, and the book was published in 2010. This book illuminated a topic that I don't remember ever learning about in history class, and I could write a long, impassioned blog post about how we teach history in this country, but that's a topic for another place.
Anyway, please read this book if you have the time. We'd be a far better society if we read books like this in school instead of textbooks.