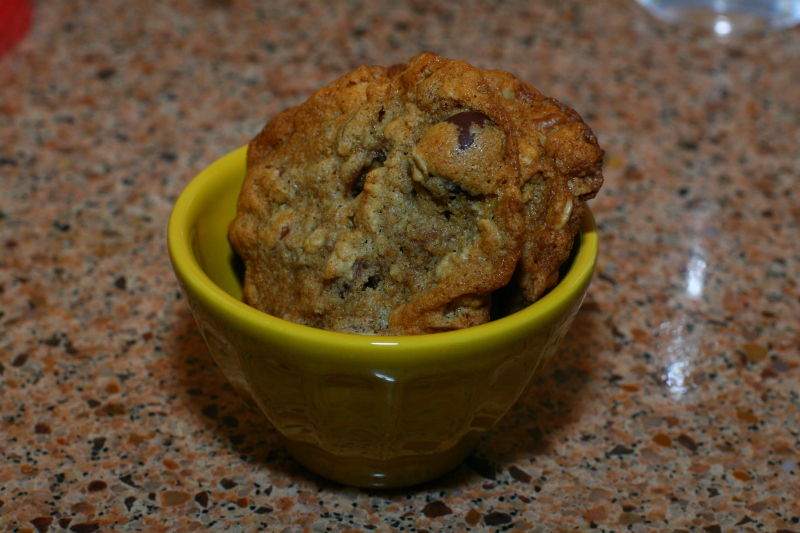 These cookies almost didn't happen. I grab most of my recipes from just a couple of sites, but I used a new-to-me blog when I made this cookie dough a few weeks ago. I baked part of the dough then and stashed the rest in the freezer. When I prepared to bake the remainder last night, I couldn't remember which site I had used, so I didn't know the baking temperature or time. Sigh.
Had this been standard chocolate chip cookie dough, I probably would have polished it off raw. But these are some jazzy chocolate chip cookies. They have oatmeal and cinnamon and pecans. Luckily, a bit of searching led me right back to the recipe at Homesick Texan. She calls them cowboy cookies, but I'm changing the name in an effort at equality.
I would have hated these cookies as a kid. My parents didn't bake cookies often, and when they did, they always wanted to add oatmeal and nuts. Why ruin a perfectly good cookie by adding oatmeal? Blech! And nuts? They're hard. They're bitter. They're the food of rodents. Mine was a rough childhood.
Anyway, I'm an adult now (mostly), and these are a hefty adult cookie. If you haven't had chocolate and cinnamon together, it is divine.
Cowgirl cookies from Homesick Texan
Ingredients:
1/2 cup pecans, chopped
6 T. unsalted butter
6 T. sugar
6 T. brown sugar
1 large egg
1/2 cup flour
1/4 cup whole wheat flour
3/4 t. baking powder
3/4 t. baking soda
3/4 t. cinnamon
1/4 t. sea salt
3/4 t. vanilla extract
3/4 cup rolled oats
1 cup semisweet chocolate chips (I used bittersweet and highly recommend that)
Preheat the oven to 350 degrees. Put your pecans in an oven-safe skillet and slide it into the oven for about five minutes to toast the nuts.
Mix the butter and two types of sugar until smooth. Beat in the egg and vanilla.
In a separate bowl, mix the flours, baking powder, baking soda, and cinnamon. Dump that into the butter mixture and beat until combined. Stir in the oats, chocolate chips, and pecans.
Line a baking sheet with parchment paper, and roll the cookies into one-inch balls. Bake for about 14 minutes, but watch closely. I slightly overdid mine both times, but we still managed to polish them off.
As a bonus, I'm including a few photo outtakes. These cookies were terribly difficult to photograph. After my failed attempts, Greg got out the flash and a few props, and about 40 shots later we had a keeper.
Before that, we had…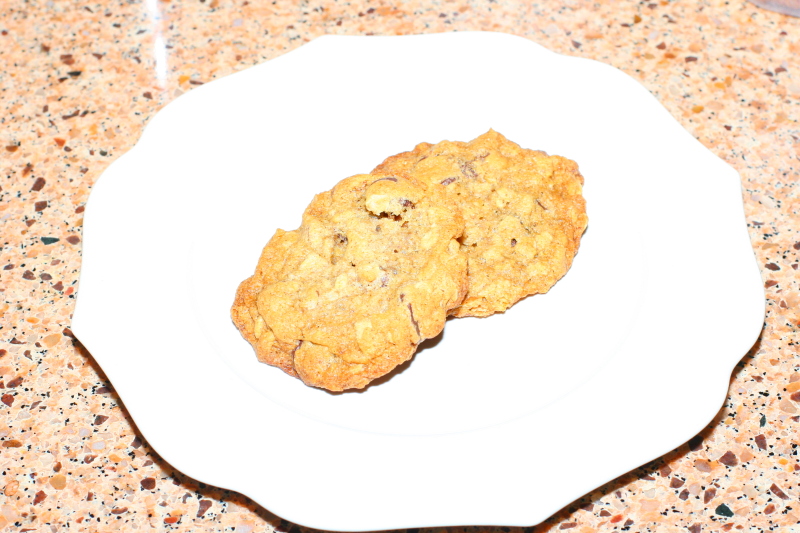 the cookie mugshot, with the poor cookies caught completely unaware, or maybe inebriated.
And also…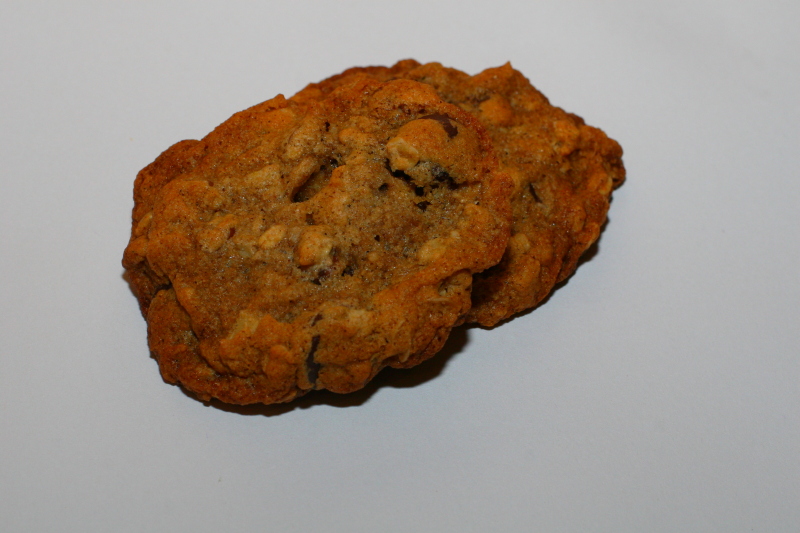 the cookie floating through space.