Two weeks ago, Greg and I finished painting the inside of our house. We've been working for the past seven years to coat everything because the paint that the builder used was watered down, and it flaked off the walls when we tried to remove spots. We painted our guest bedroom gray, and Greg touched up a spot in our guest bathroom, and we were done. So exciting!
The next day, while I was gathering our swimsuits and towels for a trip to the pool, Eleanor grabbed a black marker, stretched out her arm, and started to run. She made a long line on the wall by our kitchen table, stopped at her play table to scribble, and then dashed up the stairs and began working on a masterpiece of some sort, and that's when I found her. The marker went with a dry-erase board that she had received as a gift at school. Surely dry-erase markers were washable. No?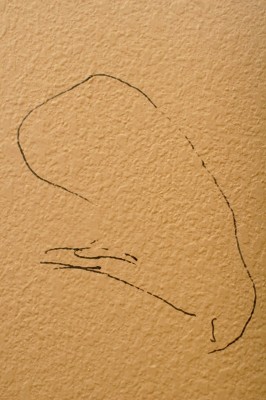 I started to yell but recognized quickly that Eleanor hadn't known she was doing anything wrong. I'm sure at some point we've told her not to use marker on the walls, but it has been a while. And you have to be so specific with kids; if I tell Eleanor not to use markers on the walls, she will pick up a crayon or a pencil instead.
Now I'm wondering whether we should be discouraging this. When I first watched "The Last Lecture" by Randy Pausch a few years ago, I thought that his advice was wonderful. For those who missed this, Pausch was a professor who died of cancer in his 40s, but before he did, he gave a final lecture dispensing advice on how to live your dreams. And part of his advice was that we should allow our kids a lot of freedom to be creative rather than enforcing rules in the name of conformity. He felt that his success in life was due partly to his parents' flexibility.
We must have some rules, of course. I can't let Eleanor destroy the house. But where is the line? Chalkboard paint isn't an option for us because our walls have a bumpy texture. Do we set aside one wall in her playroom, hand her some markers, and cover our eyes?