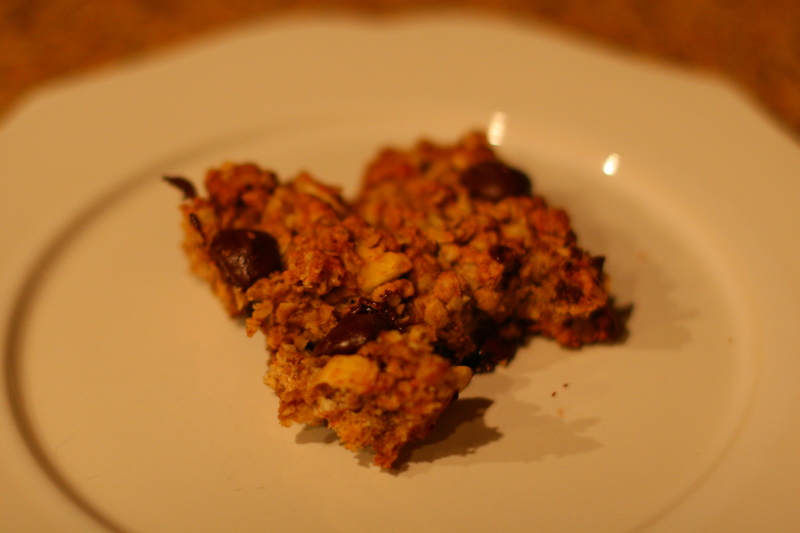 What is this thing? A cookie? A snack?
Breakfast? Could this possibly be breakfast? The creator of this recipe, Jenna over at eatliverun.com, says these are breakfast bars, but I'm not going to endorse that idea. If you push aside your toast and eggs and fruit in favor of one of these, I will not be responsible for your devouring the whole pan of 'em.
The state of Texas forced me to make these. Maybe not literally. But do you know how quickly bananas spoil here in the summer? We buy green bananas at the store, and four days later they're nearly as brown as a longhorn. Fortunately, we now have these cookies instead.
They do have a breakfasty quality. Oatmeal replaces much of the flour, and some banana chips make these sweet and crunchy. Plus, these are nearly vegan (and actually will be vegan if you find some dairy-free chocolate). I know that, for some people, when I say "vegan" I might as well say "cardboard." But these are good, I promise.
Banana chocolate chip bars from eatliverun.com
Ingredients:
1 ripe banana
1/3 cup canola oil
2/3 cup packed light brown sugar
3/4 cup flour
2/3 cup chopped banana chips
2/3 cup dark chocolate chips
1/2 t. baking soda
1/4 t. salt
1/2 t. cinnamon
2 cups quick cooking oats
Preheat oven to 350 degrees, and grease an 8×8 pan.
Combine the flour, baking soda, salt, cinnamon, and oats.
In a separate bowl, mash the banana, and stir in the oil and brown sugar. Pour the dry ingredients into the wet ingredients, and mix until combined. Stir in the banana chips and chocolate chips. Bake until golden, about 25 minutes.
I think these would adapt really well to variations. How about peanut butter chips? Or some walnuts? I have five more bananas in my freezer, so I'm looking for ideas.