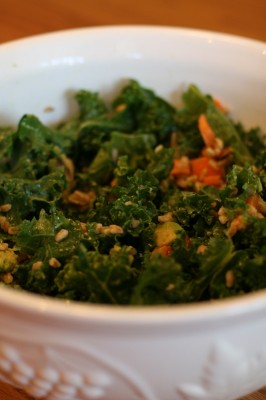 Am I the only person who loves kale? I'm going on a little tangent here, but stay with me. I ate my first oyster recently, and the friends who tutored me in this little venture told me that I needed a lot of lemon, a lot of salt, and maybe even some ketchup. Because the oyster needed to taste like something other than oyster.
I ate that rubbery oyster, and I thought, I should have had some kale instead. Kale is just like oysters! It's a perfect vehicle for lemons and salt, but it's packed with vitamins, too. We've been eating a lot of it at home lately, and my fellow diners aren't nearly as enamored as I am, but I'm trying to win them over.
I know I've lost some of you meat-and-potatoes people with all of this kale talk, and I'm about to lose a few more when I mention that this salad also has farro. But if you're acquainted with kale and farro and the like, this salad is great. Or rather, the dressing is great. It has mashed avocado, lemon, and honey, and it would be delicious on nearly anything you want to dump into your salad bowl. It is thick though, so it works particularly well with the hardy kale.
I asked Greg what he thought of this, and he said, "It was good, but it wasn't your best salad." A-ha! A challenge. I see more kale in your future, Greg.
A few notes: The original recipe calls for fennel in the salad, but we skipped that. You could add some poached or hard-boiled eggs to make this a main course. Also, the original recipe says this takes 10 minutes to make, but I found that's only true if you have all of your ingredients prepped. I spent about 30 minutes on this.
Kale, carrot, and avocado salad from 101 Cookbooks
For dressing:
2 stalks green onions, chopped
1/4 t. sea salt, plus more to taste
2 T. lemon juice
1/3 cup olive oil
2 T. ripe avocado
1 t. honey
For salad:
1/2 bunch kale, destemmed and chopped
1 cup cooked farro
4-5 carrots, very thinly sliced
1 avocado, chopped
handful of almonds, toasted
Puree the dressing ingredients with a food processor, and add salt, pepper, and honey as needed.
Toss the kale with about half of the dressing, and use your hands to work it into the leaves a bit. Add the farro, carrots, and a bit more dressing. When that's well mixed, add the avocado and almonds. Dig in.