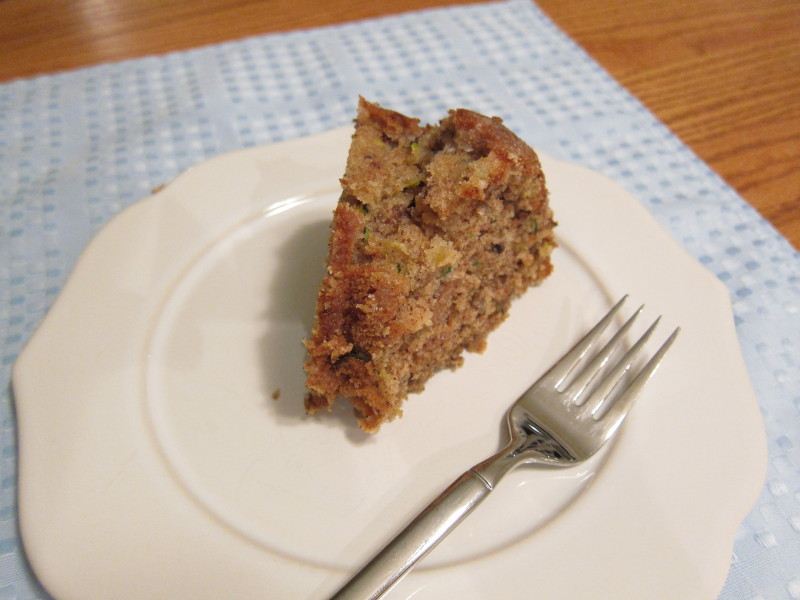 I want to tell you about this cake I made over the weekend, but I fear that you will underestimate the importance of this recipe. You will see the zucchini and turn up your nose. But this cake transcends all of the other cakes I have made. It laughs at the saccharine chocolate cake and rolls its eyes at the predictable carrot cake. Indeed, it's humble appearance makes me feel a little less boastful when I tell you that it's the best cake ever.
During our visit to the farmer's market, we stopped at a stand selling homemade baked goods. We bought a cinnamon roll to share, which means that Eleanor gave one bite to Greg and I before downing the rest.
Anyway, when we arrived home, I said that I sure wished we had bought another cinnamon roll. And Greg said that he sure wished we had bought a slice of that zucchini cake with lemon glaze, and then I looked at him as though he'd lost his mind. Zucchini cake? Huh?
But we had bought a couple of pounds of zucchini at the market, so I did a quick online search, and one of the first things that popped up was this David Lebovitz recipe. I'll be honest. This cake is a pain in the tush, and I didn't even want to like it. You have to toast nuts and then grind them in a food processor. You have to grate zucchini. You have to use an electric beater to whip the eggs. By the end, my kitchen looked as though it had been used to feed a football team.
On top of all that, I didn't put enough oil in my cake pan, so the cake stuck to the pan when I flipped it out. And — and — can you believe there's another "and"? Greg's camera is broken, so we had to photograph it with our point-and-shoot. This cake had everything working against it, and yet, it was totally (totally!) worth the trouble. When Greg took his first bite, I asked him what he thought, and he said, "This isn't a kids' birthday cake." Indeed it isn't, with the zucchini, lemon, nuts, and spices all mingling.
Ironically, after Greg and I argued about who would get the last slice, Eleanor intervened. She insisted it was for her. So it was.
Zucchini cake with lemon glaze by David Lebovitz
For cake:
1 cup almonds, pecans, or walnuts, toasted
2 cups flour
1 t. baking powder
1/2 t. baking soda
1 t. kosher or sea salt
2 t. cinnamon
1 t. ginger
1/2 t. nutmeg
3 large eggs, at room temperature
1 3/4 cups sugar
1 cup extra-virgin olive oil
2 t. vanilla extract
2 1/2 cups finely grated zucchini
For glaze:
1/4 cup lemon juice
1/3 cup granulated sugar
1 cup powdered sugar
Preheat oven to 350 degrees, and butter and flour a bundt pan. After the nuts are toasted, finely chop them in a food processor (or by hand).
Sift together the flour, baking powder, baking soda, salt, cinnamon, ginger, and nutmeg. In a separate bowl, use an electric mixer to beat eggs, 1 3/4 cup sugar, and olive oil until light and fluffy, about three minutes. Then mix in vanilla.
Add the flour mixture to the egg mixture and beat just until combined. Stir in the nuts and zucchini. Pour into the pan and bake 45 to 50 minutes, until a tester comes out clean.
To make the glaze, stir together the lemon juice, 1/3 cup sugar, and powdered sugar. Allow cake to cool about 10 minutes, and then invert onto a rack. Brush the glaze over the top. We kept this cake on the counter, wrapped, for several days, and it was just as wonderful on the third day.