I thought the words would pour forth today, but I don't know how to sum up the past year, so I'm going to talk about the weather. Last year, on the morning after Genevieve was born, a few drops of rain fell outside the hospital. I'm in no way a person who looks for signs or finds much meaning in coincidences, but it did feel like the sky was crying with me. Then the rain stopped for two months. The temperature was over 100 degrees every day, and everything around us began to die. Our grass faded to yellow then disappeared, leaving us with dirt. All of our flowers wilted. Wildfires began to burn. The city looked like a reflection of me. Shriveled and then turned to dust.
A year onward, the drought is nearly over. Last Sunday, thunderstorms arrived with rain. More storms came the next day, and the next. It rained every day this week. Last night, Greg found this growing in our yard.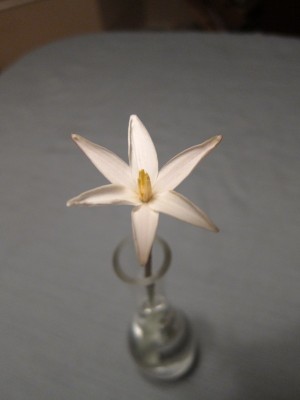 We'd never seen a flower like this before, so we searched the Internet. It's a rain lily. Yes, it's technically a weed, but it's a beautiful weed. That's a little how life feels now. This isn't the life I wanted, but sometimes it's beautiful anyway.
Many thanks to those who sent cake photos. I'll post those tomorrow.