Greg has captured many of our meals during the past few years but always in a haphazard fashion. I forget to ask him until we've all started eating, and he gamely snaps away while his meal grows cold. Or I remember to tell him before dinner, but in the rush to set the table and satiate our wee dictator, he only gets a photo of the meal as it languishes in a greasy skillet.
Last week, I did something unprecedented. I offered to buy Greg a new camera lens. (For the record, this is basically the only thing Greg wants in life — cameras and lenses. Given the choice between a BMW and a Canon EOS 5D, he would totally take the Canon.) As soon as the words slipped out, I saw Greg fight to hold a solemn face. Must not look excited. Must not blow this opportunity. But his eyes twinkled merrily.
He has long told me that a macro lens would help him take better pictures of food, but as we started researching at some of my favorite food blogs, we found that the photographers didn't use macro lenses. They used the same lenses we used. And so Greg did something unprecedented. He told me that he might not need that camera lens, that he might just need more practice and more time to photograph our meals. I take some of our photos, too, and I can attest that making flaccid cooked spinach look appealing is really, really difficult, much more difficult than making a certain bouncy 3-year-old look appealing.
So, how about this semi-attractive tomato salad? This turned out far better than I expected. If you haven't roasted tomatoes before, or if you think that you don't like tomatoes, you need to turn on your oven. Tomatoes become much more mellow and sweet with roasting. I often skip the nuts in recipes, but the crunch of almonds really improves the texture of this salad. The original recipe calls for capers, but I confess that on the few occasions I've tried capers, I didn't like them. Still, I resigned myself to buying a jar. When I saw them sitting on the store shelf right next to the olives (Double yuck!), the association wrinkled my nose and sent me scurrying away.
My produce came from the farmer's market, and that added a lot to the flavor. This would still be good with grocery store stuff, but if you know any gardeners, maybe you can make a trade. Cookies for tomatoes? Would that be fair?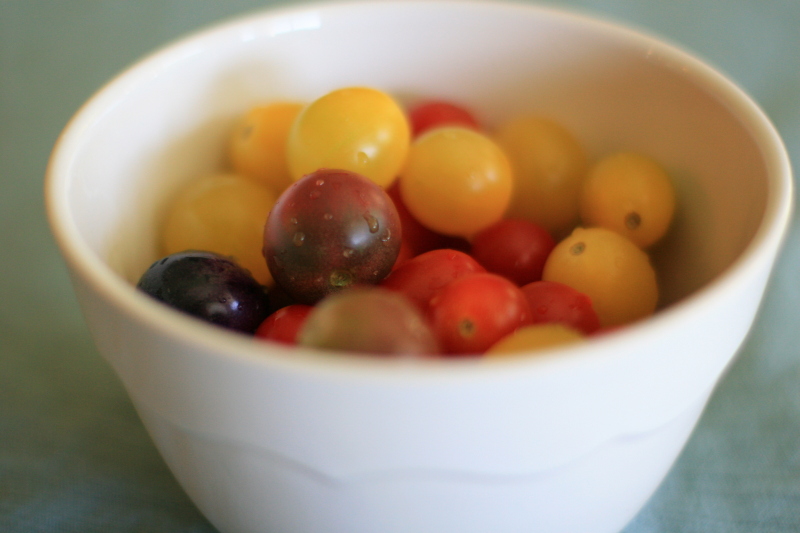 Roasted tomato salad adapted from 101 Cookbooks
2 pounds cherry or heirloom tomatoes, halved
1/4 cup olive oil
1 T. brown sugar or maple syrup
couple pinches of sea salt
1/3 cup toasted almond slices
6 oz fresh mozzarella, torn into chunks
a handful of lettuce leaves
2 T. olive oil
Juice of one lemon
chives, to serve
Preheat oven to 350 degrees. Mix half of the tomatoes with 1/4 cup olive oil, brown sugar or syrup, and a bit of salt. Arrange the tomatoes, cut side up, on a baking sheet. Roast for 45 to 60 minutes, until they shrink a little and brown on the edges. My tomatoes were small and only needed 45 minutes.
Chopping the mozzarella would be faster, but tearing it by hand gives the salad a rustic appearance. Gently mix the roasted tomatoes with the fresh tomatoes, almonds, mozzarella, and lettuce. Drizzle with olive oil and lemon juice, and gently mix, tasting as you go to make sure you aren't over-doing it. Top with chopped chives.