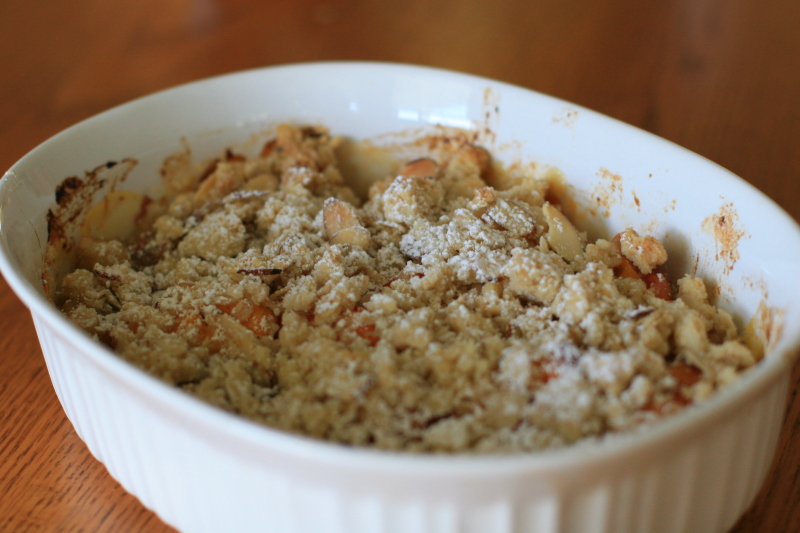 Hello again! We spent last week in Illinois visiting our families, and though I intended to blog — and even made Greg lug the laptop along — I got caught up with other things. I'll tell you a bit more about our trip later this week.
Our visit definitely gave me a greater appreciation for the food options we have in Austin. When we searched for a restaurant to visit with Greg's family, I "discovered" several unique places online only to later find that they were one in a chain of 30. I know that I sound like a food snob, and I do occasionally eat at chain places because it is convenient, but I much prefer trying a local spot even if I end up with a mediocre meal. At least I'm tasting something new.
Speaking of new tastes, let's talk about apricots. Do you eat apricots? I have never been much of a fan. Fresh apricots always taste a bit mealy to me, and the dried ones smell musty sometimes. Clearly, I won't be hired to promote apricots. Yet, I have finally found a place in my heart for them. The secret? Baking. Apricots grow juicier and a bit sweeter in the oven.
This crisp is tart by American standards, though I liked that it wasn't tooth-achingly sweet. You can certainly dollop on some yogurt and call it breakfast. Or, if you only have time to bake this in the evening, and the scent of butter and syrupy apricots is too much to take, you could scoop a bit of ice cream on top, dig in, and vow to eat some eggs for breakfast.
Breakfast apricot crisp from Smitten Kitchen
For fruit:
1 pound apricots
3 T. sugar
1 T. flour
Pinch of nutmeg
For topping:
1/2 stick (4 T.) butter, melted
6 tablespoons turbinado or regular sugar
1/2 cup oats
1/2 cup flour
Pinch of salt
2 tablespoons sliced almonds
This recipe will give you six modest servings, so you might want to double it. Wish that I had.
Preheat oven to 400 degrees, and grease a baking dish that can hold about three cups. If your apricots are ripe, you can rip them into chunks with your bare hands, but if you're a bit more 21st-century, a knife also works. Toss the apricots with the 3 T. sugar, flour, and nutmeg. Pour into the baking dish.
Stir together butter, remaining sugar, oats, flour, salt, and almonds until small lumps form. Sprinkle topping over fruit, and bake it in the oven for 30 to 40 minutes. From there, it's up to you. Powdered sugar? And ice cream? Or yogurt?