Here is my official fall kickoff. Have I mentioned how much I love apples? I could run a whole separate blog devoted solely to apple recipes. I'm reluctant to say that because mediocre apples are ubiquitous, and I don't want you to think that is what I'm referring to. When I was a kid, we picked apples at a small orchard near our home, and the honey-sweet smell of them still tugs at my memory. Yes, they wore some dents and held the occasional worm, but their tart juiciness made the grocery store apples seem like a different species.
Alas, we don't have apple orchards in Austin, one of the few food downfalls of this place. I plan to take Eleanor north one of these years during autumn so she knows how an apple should taste. She refuses to eat apples now, but I'm pretty sure a visit to a Vermont orchard could change her mind. Have you been to Vermont in the fall? We might never return.
So, these pancakes could still use some tweaking. They are moist and can handle as many flavors as you want to pack in, but they always come out looking like hockey pucks. I wonder whether substituting buttermilk for the regular milk would add some airiness. If you'd prefer a bit of citrus, you can add lemon or orange zest instead of cinnamon. Nuts would also be good. Go wild! The apples we get around here need a little help from their friends.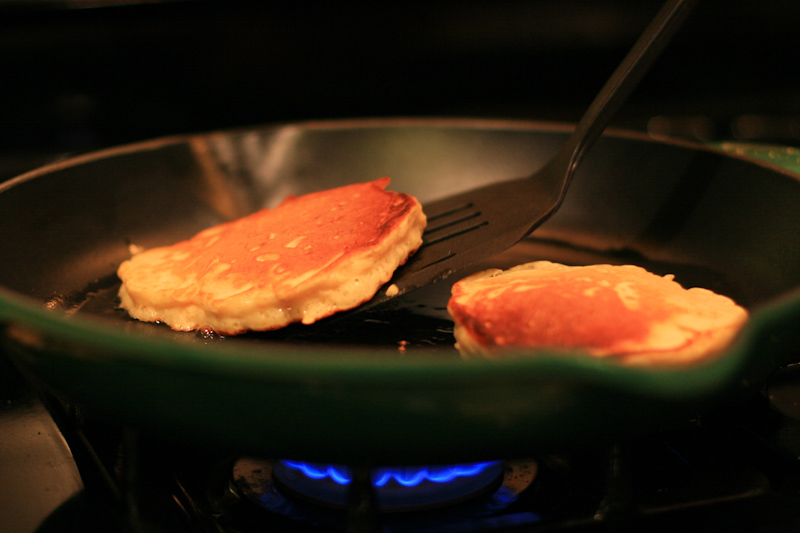 Apple Pancakes adapted from Smitten Kitchen
2 eggs, beaten
1 1/2 cups of milk
1 t. vanilla
2 cups flour
1 t. baking powder
1 t. cinnamon
1/2 t. salt
1/4 cup sugar
3 medium apples, peeled and coarsely grated (A food processor works well for this.)
Mix the eggs, milk, and vanilla in a large bowl. In a smaller bowl, mix the flour, baking powder, cinnamon, salt, and sugar. Pour the dry ingredients into the wet ingredients, and stir in the apples.
Heat a thin layer of vegetable oil in a skillet over medium heat. Drop in about 1/4 cup batter per pancake, and make sure the batter isn't piled too high. These pancakes are stubborn about cooking in the middle. When the bottom becomes golden, flip. Serve with powdered sugar or maple syrup.