Do you have a favorite kitchen gadget? Usually, I read about home cooks swooning over cast iron skillets and pastel-colored stand mixers, but I want to tell you about a far more valuable tool.
When I first started cooking, I used to leave the onions out of recipes so that I could avoid stinging, swollen eyes. But I soon saw that many recipes, particularly the vegetarian recipes that I wanted to make, started with chopped onions and garlic. I increased the garlic, but that couldn't disguise the missing onion. So I started planning my meals around Greg's availability. If he were home to chop an onion, then we could have a nice meal, and if not, we ate grilled cheese. I really hated chopping onions.
Then Greg got me the best gift ever. Better than the waffle iron. And the iPad. He got me a pair of onion goggles. (I'm not being paid to say this, by the way.) They're a nerdy pair of glasses with foam along the sides that nestles up to your face. I use these almost daily, and I can save my tears for more important things. I know that swimming goggles would also work, but these are more comfortable. And I've heard that you can freeze an onion to prevent all of those vapors, but I never have that foresight.
I took a knife skills class a few years ago with some friends, and when the teacher pointed to a pile of onions, my heart started to race. "Do we have to chop those?" I asked my friends, frantic. I imagined the dozen people in the class slicing into those onions simultaneously. My onion goggles were at home. This was like walking onto the field of a professional football game without a helmet. Could I feign illness? Or politely excuse myself to use the restroom for the next 15 minutes?
Obviously I survived the ordeal, though my nose ran for the next two hours. This is all to say that you really should have a pair of onion goggles, or maybe even two pairs so you can keep one in the car for emergencies.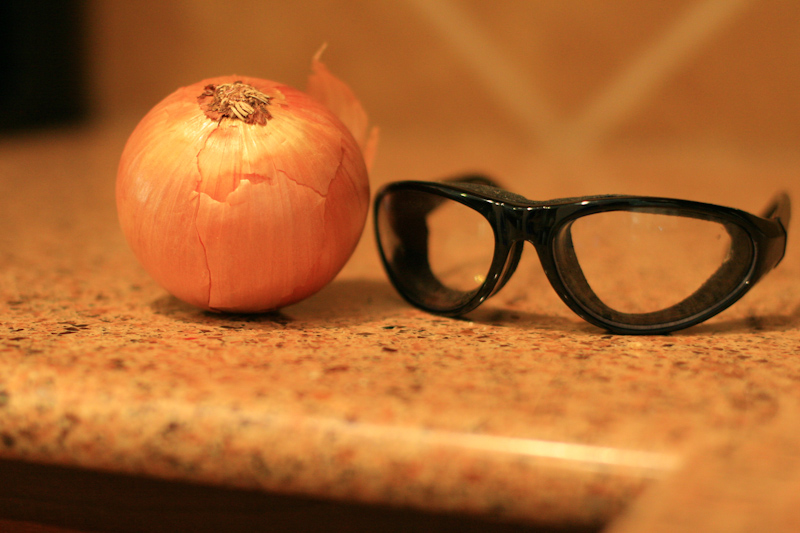 (I would love to show you a photo of myself looking sporty in these, but the glare from the lenses was horrible. I'll update if we get a better shot.)