Do you remember your favorite childhood dessert? Mine was pumpkin pie. I didn't realize until adulthood that this was a strange choice for a child — spiced squash pie. Eleanor's favorite dessert is chocolate cupcakes with sprinkles, which seeems more, well, normal.
Looking back now, I'm not sure whether I loved pumpkin pie for the flavor or the holiday associations. I know that I liked its custardy texture, the way it seemed to melt on my tongue. And though I spent most of my childhood trying to avoid cinnamon because it gave a peppery bite, I liked it in pumpkin pie. I no longer claim pumpkin pie as my favorite dessert, but I still adore all things pumpkin, and this three-month autumnal span set aside for pumpkins isn't nearly long enough. Why does banana bread get to parade around all year long? Who is making these rules?
In my search for something beyond the standard pumpkin bread and muffins, I stumbled onto a picture of pumpkin whoopie pies. And I knew. If life can't be kind to me right now, I'm at least going to be kind to myself. There is no excuse for these cookies. They are unhealthy. Indulgent. And so delicious.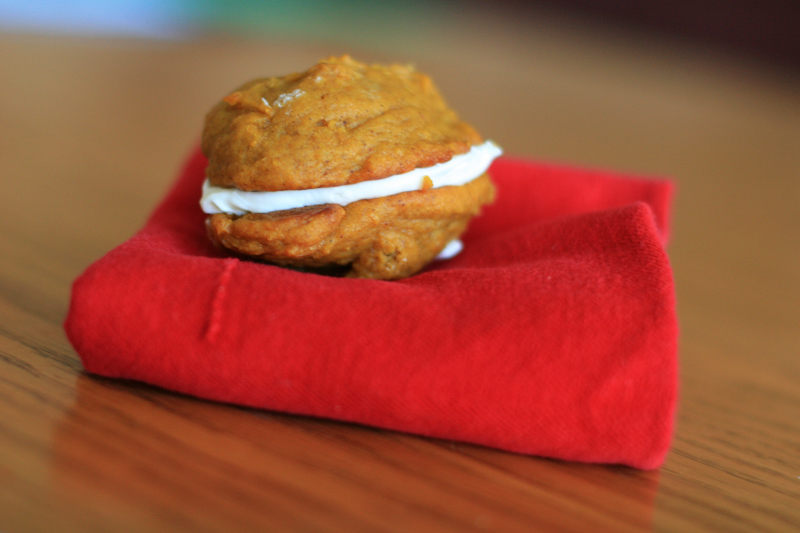 The cookie portion has a cake-like texture, so these resemble an inside-out cupcake. Most of the recipes I found called for cream cheese frosting, but my picky palate wouldn't tolerate that. So I stuck with the marshmallowy frosting that typically fills a chocolate whoopie pie. The filling was so sweet that I feared it would ruin the cookies, but it's great against the spices. You can make this filling fancier by swapping in maple extract or bourbon for the vanilla.
Pumpkin Whoopie Pies from Gourmet Live via Epicurious
1 1/2 cups flour
1/2 t. baking powder
1/2 t. baking soda
1/2 t. salt
1 t. ground cinnamon
1/2 t. ground ginger
1/4 t. freshly grated nutmeg
1/4 t. ground cloves
1 cup packed light brown sugar
1/2 cup vegetable oil
1 (15-ounce) can pure pumpkin
1 large egg
1 t. vanilla extract
Preheat oven to 350 degrees. In a medium bowl, combine the flour, baking powder, baking soda, salt, and spices. In a large bowl, whisk the brown sugar, oil, pumpkin, egg, and vanilla. Pour the dry ingredients into the wet and mix just until combined. Line two baking sheets with parchment paper, and scoop out two tablespoons of dough per cookie. You should get about 30 cookies. Bake 12 to 18 minutes, until cookies spring back when touched.
Whoopie Pie Filling from Martha Stewart
1/2 cup butter, room temperature
1 cup sifted confectioners' sugar
1/2 jar marshmallow fluff (from a 7.5-ounce jar)
1 t. vanilla extract
With an electric mixer, beat butter and sugar until pale and fluffy, about three minutes. Beat in marshmallow fluff and vanilla. Spread a layer of filling on cooled cookies. If the filling is too runny to spread, you can put it in the fridge for a while to thicken.