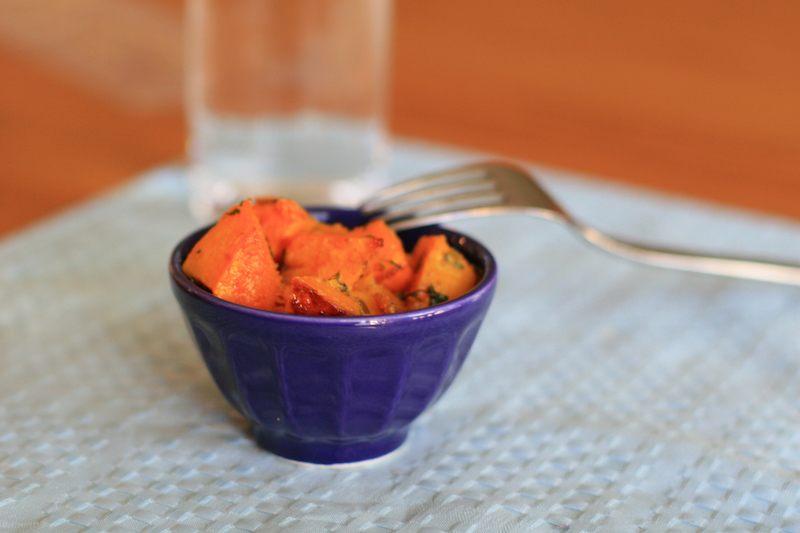 I debated what to call this recipe. The New York Times calls it Provencal winter squash gratin. I think the most apt name might be Lazy Day Squash because this needs a long time to roast and so is perfect for a Saturday or Sunday when you're lounging around in your sweatpants with an old novel and a mug of warm cider. What did you say? Football? Ah, yes, I suppose that's what a few of you are doing on these fall afternoons.
This recipe is easy after you get past that hacking-the-squash-with-a-machete bit. Or you could buy the pre-cut stuff, but I'm quite sure that cutting it yourself qualifies as an aerobic and strength-training workout. Those football players will have nothing on you!
The savory flavors in this play nicely off the sweetness of the squash. And it makes your home smell like Thanksgiving. Yum!
Garlicky butternut squash from The New York Times
3 pounds butternut squash, peeled and cut into 1/2-inch dice
4 garlic cloves, minced
1/4 cup bread crumbs
1/2 cup chopped fresh parsley
1 T. fresh thyme leaves
Salt and pepper
3 T. olive oil
Preheat oven to 375 degrees, and oil a 3-quart baking dish. In a large bowl, stir together all the ingredients, and then pour into the prepared baking dish. Bake for 1 1/2 to 2 hours, until the squash is very tender, stirring every half hour.