You might remember that I was trading goodies with Pam, a blogger in Boston. I sent her package off several weeks ago and then waited. And waited. And then slowly became convinced that I was living a cliché. The post office had lost my package. Fear not! I finally heard from Pam, and she told me that the package wasn't lost, merely mangled. Does this surprise anyone?
Here are the intact goods: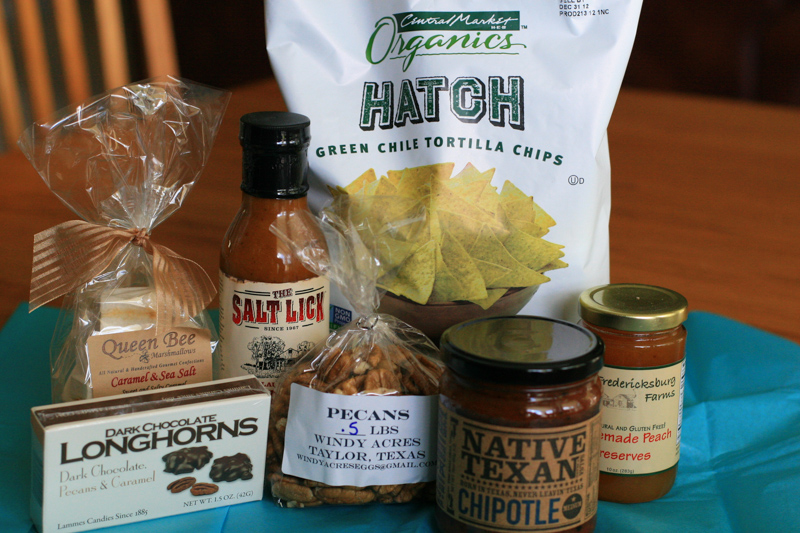 There were dark chocolate longhorns from Lammes, caramel and sea salt marshmallows, Salt Lick barbecue sauce, pecans I bought at the farmers' market, Native Texan salsa and peach preserves.
I recognized that the glass jars would be a problem. But what sort of Texan would send a care package without barbecue sauce and salsa? A lousy one, I'd say. I swaddled everything in layers of tissue paper, got a box at the shipping shop and off it went. When Greg arrived home from work, he asked whether I had used bubble wrap. Did he suggest this before I sent the package? No, no, he did not. Did the man at the shipping shop suggest this when he saw me stuffing tissue into the crevices of the box? No, no, he did not.
So when Pam finally got the box about two weeks later, the salsa had broken, and apparently had taken the pecans and longhorns out with it. You can see the package on the other side of its journey at Pam's blog. I think there's a lesson here, but I'm not sure what it is. Use bubble wrap? Or maybe just send lots and lots of marshmallows.