If you're not a fan of pumpkin pie, though you know that I am, this might be just the dessert to dish up for Thanksgiving. It requires only a few minutes in the oven. And it has ice cream! Thanksgiving and ice cream might sound incompatible, but when the forecast predicts 80-degree weather at the end of November, perhaps it's time to let go of the cozy Norman Rockwell ideal.
This pie made for a great surprise in our house. I prepared the crust and ice cream layers while Greg was at work. After dinner, I chopped and cooked the apples. Greg, who knew nothing of the pie in the freezer, began snapping photo after photo of the warming apples.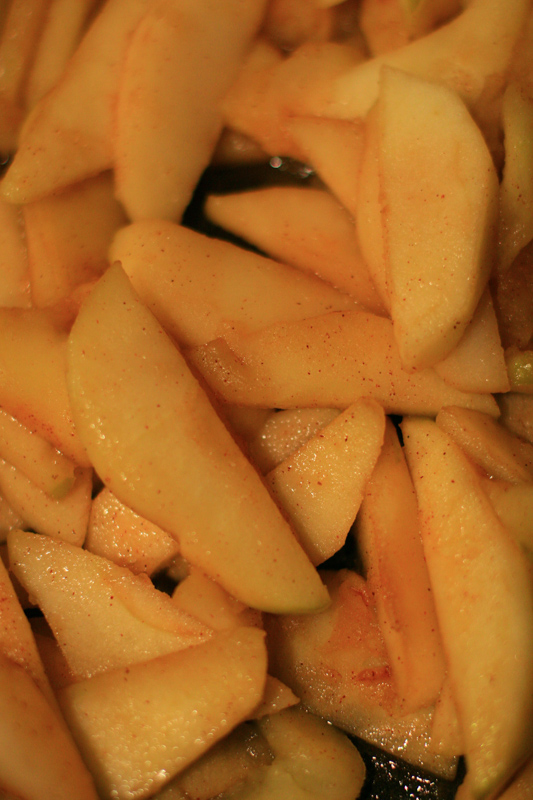 When I finished the apples, I reached into the freezer and revealed the pie.
"I've been photographing the wrong thing!" Greg said.
You're telling me!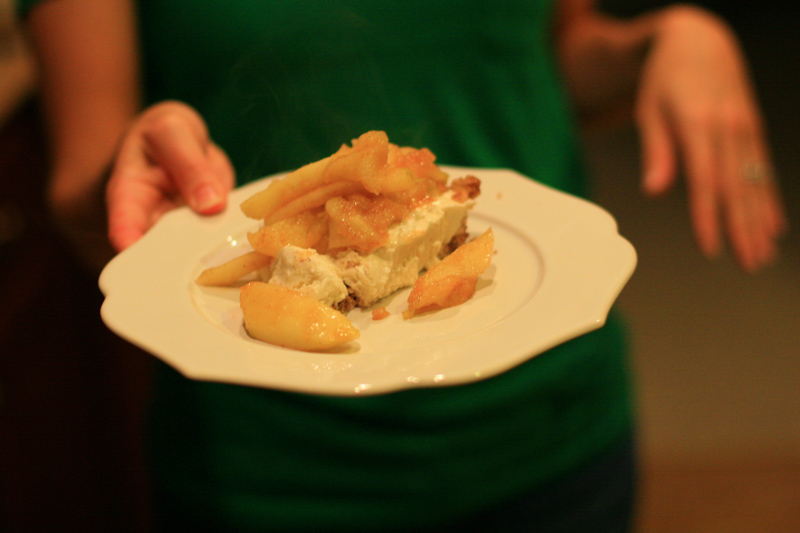 I'm a bit tepid when it comes to butter crusts and sometimes feel that they ruin the pie. But a pecan-and-oatmeal crust? Wow. I usually scale back the sugar in my baking, but I felt the apple topping could have used a bit more. Or maybe I just bought some really sour apples.
Eleanor chose Halloween candy over this, but she also despises afternoon naps, so should you really trust her?
Apple pie a la mode (and inside out) from Sara Forte via Epicurious
Crust:
1 cup old-fashioned rolled oats
1/2 cup chopped raw pecans
1/2 cup muscovado sugar
1/2 t. sea salt
1 t. ground cinnamon
1/4 cup unsalted butter, melted
Filling:
1 quart vanilla bean ice cream
Topping:
3 T. unsalted butter
4 large tart apples, peeled, cored and sliced
1/4 cup muscovado sugar
1/4 t. ground cinnamon
1 t. pure vanilla extract
Preheat oven to 375 degrees. Stir together all crust ingredients except the butter. When well mixed, add butter. Press the mixture into the bottom and up the sides of a 9-inch pie pan, and bake in the oven for 10 to 12 minutes, until toasted. Remove from the oven, use a spoon to reshape any crust that has slid down and allow to cool.
Allow ice cream to soften on counter for about 10 minutes, and then scoop a layer onto the crust. Put the pie into the freezer for at least an hour to firm up.
For topping, melt the butter in a large sauce pan. Add the apples and cook until soft, about 10 minutes. Stir in the sugar, cinnamon and vanilla, and cook until the mixture gets saucy. Cut out individual slices of pie, and spoon apples over the top. Unless you want your whole pie to melt into soup, that is.