We took Eleanor to the park to get bluebonnet photos over the weekend. I have learned over the years, just as every parent does, that plans with children seldom work as you expect. In the case of these photos, the sun pierced too brightly from overhead, and burrs buried amongst the flowers poked at ankles and hands. Oh, and Eleanor spotted a bee and wanted to flee the field.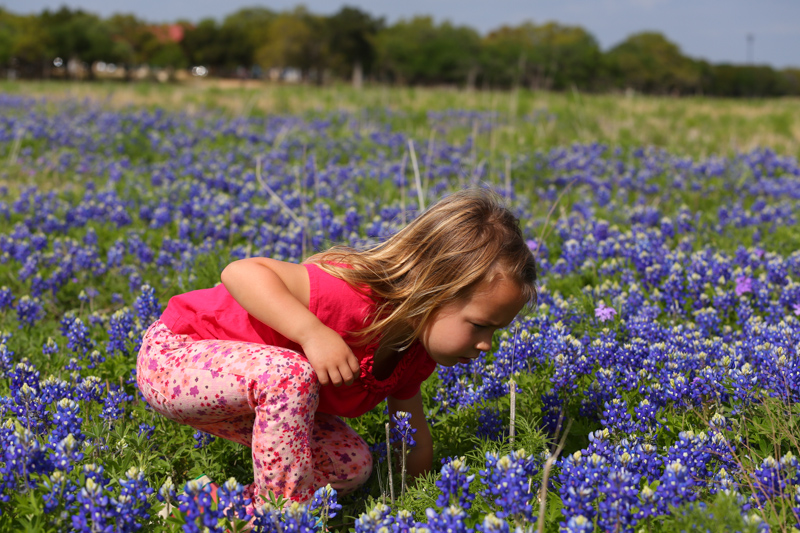 I had a difficult time ignoring my memories of our photo shoot last year, when I nearly effervesced with hope. After I had Genevieve, two different doctors advised me to wait a year before I tried to get pregnant. Last spring, I hadn't quite reached a year, but I had waited long enough. We were ready. I just knew that by this year, we would be taking a photo with Eleanor and our new baby.
I am a planner, always have been. When I was in school, I was that annoying kid who started writing the 10-page paper a week in advance, just as the teacher suggested. I kept calendars and lists, and I did well in school and, later, in my job, which only reinforced my urge to plan everything. For a while after I had Genevieve, I completely quit planning because I needed to focus purely on survival. But gradually, I started to plan things again — vacations, freelance jobs, and another baby.
Lately, I've given up on the planning again. I'm making reservations for our surprise trip in two months, and even that feels precarious. What if I'm pregnant then? What if I'm not? And my freelance career is haphazard at best. I'm still getting jobs but not following any sort of path the way I think that I should.
We're supposed to live in the moment, right? That's the key to happiness. I do worry less now that I have no idea what is happening next month, never mind next year. The surprise element of my job can also be fun. Still, I like striving for goals, and some part of my personality needs to be fed in that way. Sometimes plans don't work. I get it by now. There's something lovely though about putting out that hope again that things can work. I would like to reach a point — soon, please — where my footing is firm enough that I can gaze into the distance a bit.