My grandpa visited several times every year while I was growing up. He usually brought the coolest toys my brother and I had ever seen — a little hand-cranked cart and a mini air hockey table and other gadgets that even now I can't put into words.
He also brought a red, metal cooler that weighed about 15 pounds and looked straight out of "Lassie." My grandpa was a grain and cattle farmer, and he brought us meat. He was my only living grandparent, my only gauge of what a grandparent was, so I assumed that every grandpa brought meat when he visited. I remember mentioning the cooler to a childhood friend, asking what her grandpa brought in his cooler, and she looked at me with wrinkles of confusion and worry.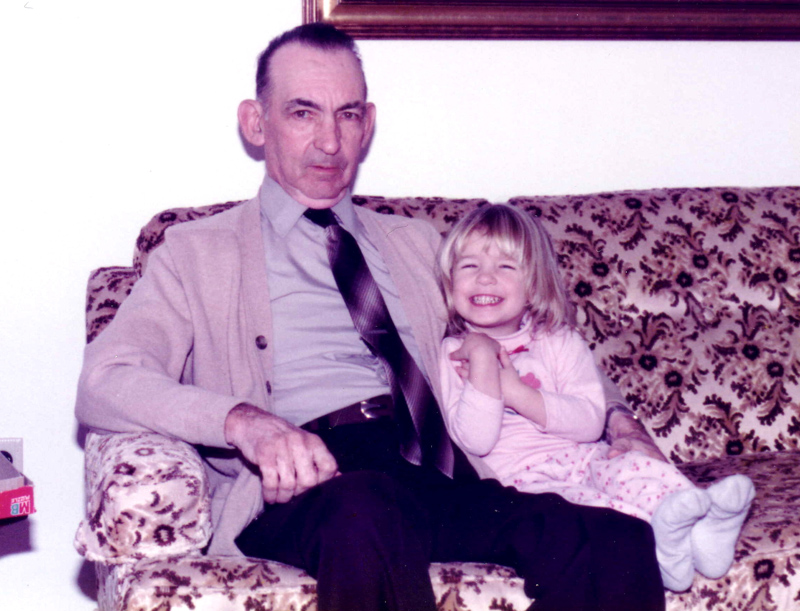 (He actually did like me. He was of that generation that didn't smile for photos.)
He would come in, and my brother and I were expected to sit politely at least for a few minutes while he and my parents exchanged pleasantries. This was our punishment for having just received the most shiny and tempting toys in the universe. I didn't really know my grandpa as a child. I knew that he liked ham and mashed potatoes and red pickups. Always, red pickups. There was something wild beneath that conservative exterior of his.
When Greg and I were first married, we spent a year and a half living in the same town as my grandpa. This was when I actually started to know who he was. He had an amazing sense of humor and especially enjoyed laughing at the newlyweds. He scolded Greg for washing dishes. "Don't let her know you can do that!" He talked about how in his day, friends would show up outside the home of  newlyweds in the middle of the night banging on pots and pans. He threatened to do the same for us.
He ate breakfast with the same group of friends every morning for years. He loved to read the newspaper cover-to-cover and go for long drives in the country.  Even at the age of 98, he would drive 30 miles to get to the nearest Dairy Queen for a Dilly Bar.
He was born in 1912. The life expectancy for a man born then was 51 years. He told us about how his family used wet newspaper to set off their Civil War cannon when the First World War ended. He quit high school in his senior year because the bank where his family kept their money went under at the start of the Great Depression. He drove his Ford Model A to Yellowstone and Mexico in the 1930s, when the roads weren't yet paved. My grandma died in 1965, and he missed her every day afterward. He retired from the job he loved, farming, at 89 and continued to help his friends with their work for several years after that. He quit driving at age 99.
My grandpa died Tuesday morning. He was 101. Our society tends to obsess over the idea of living to 100. My grandpa would be the first to tell people that you do not want to live to be 100. That wasn't my grandpa's goal. He was blessed with good genes. And he was cursed with good genes. At a certain point, life requires too much forbearance, forces too many farewells. For almost everyone, that point comes before 100.
My grandpa didn't teach me how to live to be 101. He taught me to find joy in work, to value friends, to give thanks every day for my husband and daughter, and to slow down once in a while. Those things might not yield a long life. They do yield a good life.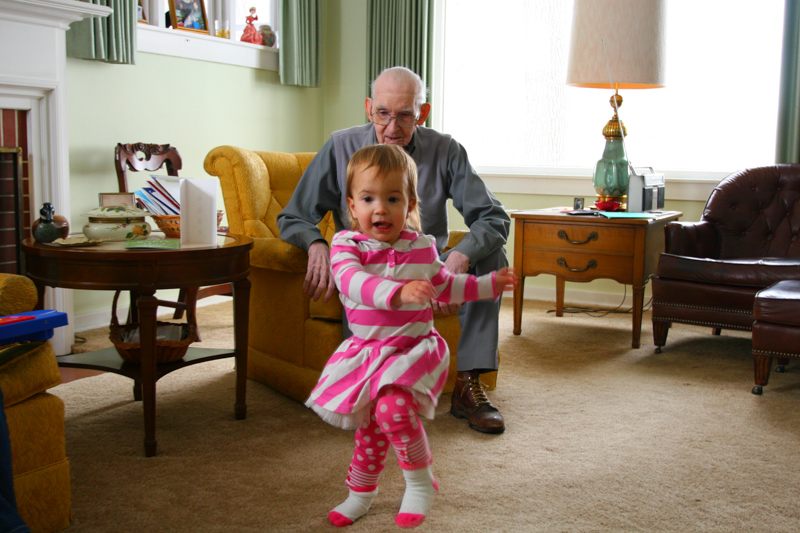 (Eleanor dances for Great-grandpa's 99th birthday. That photo below is probably the only hug she ever willingly gave him. She was scared of him.)