This month terrifies me. Eleanor's summer session of preschool is done, and her daytime babysitter just moved and is preparing to begin a new part of her life, so for all of August, it's just Eleanor and I — all day, every day. The last time we had so many unstructured days together, she was an infant.
Infants require little entertaining. Four-year-olds, however, ahem. And honestly, Eleanor and I both do better with some time apart each week. She needs friends to play with, and I need time for adult thought. We'll muddle through, probably with too many visits to the ice cream shop and with hands shriveled from too much time in the pool. Yes, it's a hard life. I'm reminding myself to enjoy this. Come fall, Eleanor will be in school every day, and by next summer, I will (I hope, I hope!) be juggling two children.
I've been wanting comfort food lately. I'm sure this is partly because the farther I wade into this pregnancy, the more aware I become of all that I could lose — and of all that I have already lost.
From a practical standpoint, comfort food almost always draws raves from the preschooler. Fresh veggies are hit-or-miss with her, but nearly any vegetable that is coated in sauce and baked in the oven is a win. Yes, I know that fresh would be healthier. Baked veggies must be better than none at all, right? Right.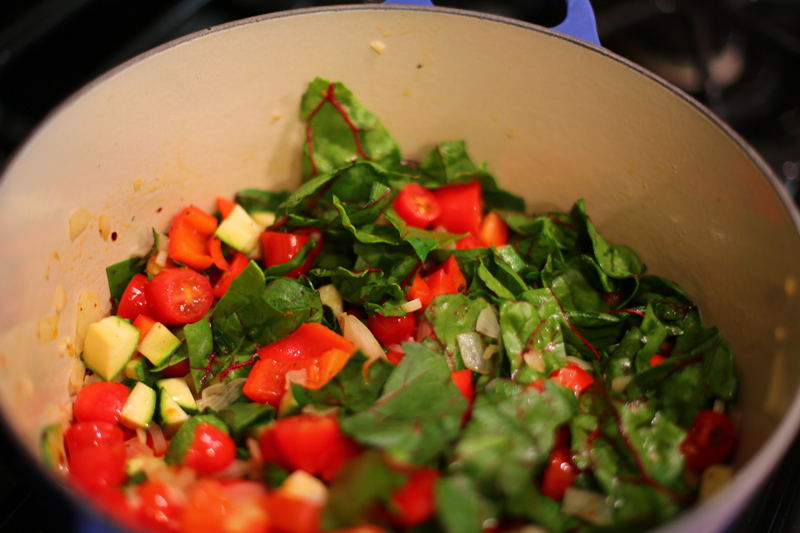 We polished off this baked orzo with summer vegetables so quickly that I made it again just a few days later. The leftovers are wonderful, so I'd suggest doubling the recipe. I did sprinkle the crackers on top. I don't think they're necessary though. You can easily adapt the vegetables based on what you have. Carrots or celery might be a nice addition.
Baked Orzo with Summer Vegetables adapted from Everybody Likes Sandwiches
1 cup orzo
1 T. olive oil
1/2 onion, diced
2 cloves garlic, minced
1 red pepper, diced
1/2 zucchini or summer squash, diced
1 bunch chard, sliced thinly
1 pint cherry tomatoes, cut in half
1/2 t. dried basil
1/2 t. dried oregano
1/4 t. dried red pepper
1/2 t. kosher salt
1/4 cup milk
3/4 cup tomato sauce
3/4 cup grated cheddar cheese + 1/4 c for topping
1/4 cup cracker crumbs (optional)
Preheat oven to 400 degrees. Prepare orzo according to package directions.
Heat olive oil in a large, oven-safe pot. Add onions and garlic, stirring until translucent. Add zucchini, tomatoes, red pepper, chard, herbs, and salt. Stir until just tender, 5-8 minutes.
Stir in cooked orzo, milk, and tomato sauce. Add 3/4 cup cheddar cheese, and stir to combine. Sprinkle reserved cheese on top, along with cracker crumbs, if using. Slide pot into oven, and bake about 20 minutes, until golden.