I have a complicated relationship with Mother's Day, as I do with everything motherhood related.
Last year, I was guzzling sparkling water and fidgeting my way through my first trimester. Eleanor had been diagnosed with Fifth Disease, a minor ailment in kids, but (of course, of course) a cause of miscarriage in pregnant women. Because I needed more worry in my life. We eventually learned through a blood test that I had been exposed to it sometime earlier in life and was therefore immune.
This year, I want to revel in whatever brunchy, flowery, handmadey things I receive because I worked so hard for this.
In honor of Mother's Day, I will tell you about this coffee cake. It is healthier than your average coffee cake. Normally, I want nothing to do with healthy desserts. If I'm eating dessert, I want to eat buttery, sugary real dessert. I love this coffee cake because it is not pretending to be unhealthy, the way some do. The texture is dense, complex, and grain-laden. I can't imagine this cake as a one-note white flour concoction.
I thought I would make this once and never again. That's usually the case with these whole-grain recipes. But two weeks after the first run, I was back in the kitchen tossing together another one. These flavors stuck in my memory. The original recipe calls for huckleberries, but I used blackberries and raspberries. The original also calls for a hint of thyme and rosemary in the cake, which I think would be fabulous, but I left them out in the interest of making this kid-friendly.
Maple Berry Coffee Cake adapted from 101 Cookbooks
Cake:
1 cup whole wheat pastry flour (or spelt flour)
3 tablespoons rolled oats
1/2 t. baking powder
1/2 t. baking soda
scant 1/2 teaspoon fine grain sea salt
4 T. unsalted butter, room temperature
1/3 cup maple syrup, room temperature
1 large egg, room temperature
zest of one lemon
2 t. vanilla extract
1/4 cup buttermilk
1 1/3 cups fresh berries
Topping:
1/2 cup whole wheat pastry flour
4 T. cold unsalted butter, cut 1/4-inch cubes
1/3 cup maple sugar (or brown sugar)
1/2 cup chopped pecans
Preheat the oven to 350 degrees. Butter a 9-inch loaf pan and, if desired, line with parchment paper. Whisk together the flour, oats, baking powder and soda, and salt. In a large bowl, beat the butter until light and fluffy. Beat in the maple syrup, followed by the egg, lemon zest, and vanilla. Add half the flour and stir a bit, and then add half the buttermilk. Add the rest of the flour and stir and then the remainder of the buttermilk. Gently fold in one cup of berries. Pour the batter into the pan.
To make the topping, place all ingredients in a food processor and pulse until the mixture looks sandy. I'm guessing that you could also mix this with your hands. Sprinkle most of the topping on the cake, add the last 1/3 cup of berries, and then add the remainder of the topping and pat it lightly to make it adhere. Bake the cake for 45 to 50 minutes. Serve to mom (or anyone else) with love.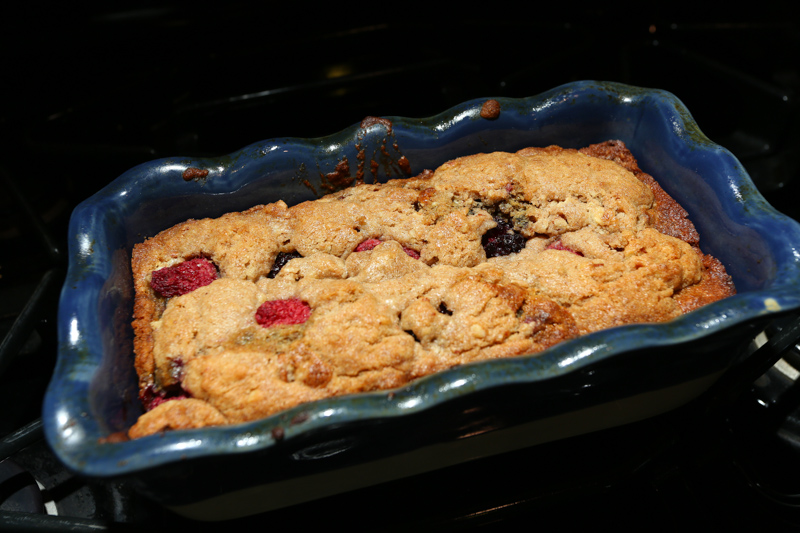 (Please excuse my non-crumbly topping. Mine ended up pureed. Yours will be prettier.)