We've been giving away Henry's baby clothes as he has outgrown them, and soon we will have to decide what to do with the bouncer and baby toys. Most of our friends are done having babies, and they seem certain of their choice. I envy them.
When I was pregnant with Genevieve, I proclaimed to anyone who would listen that I was done having babies. Two was perfect. I could not possibly endure another round of nausea and backaches. Plus, Greg had decided after Eleanor's arrival that he was happy with one. With some nudging from me, he agreed that a second was good, but I knew we were done after that. I am a very grumpy pregnant lady.
My experience with Genevieve rewrote my notion of what I could and could not survive. Turns out that I could get through another pregnancy, and a terrifying one at that. Not once during my pregnancy with Henry did I declare him my last baby. That seemed like a tempting of fate, and further, I had no idea how I would feel after having him.
In the first few months that Henry was home, Eleanor talked a lot about how life would be when we had the next baby. She doted on Henry but also was clear that she wanted a sister. This only reinforced my desire for her to have a living (Do I even need to say it?) sister.
I know many women who are close to their sisters. I know men who are close to their brothers. I don't know any brothers and sisters who are very close. While I would be happy to give Henry a brother, it's seeing young sisters together that stings. On a side note, I would love for "Frozen" to disappear even though Eleanor adores it. Darn movie makes me cry every time. Somehow I doubt those Disney executives considered the little girls in the audience who have sisters that have actually died.
I've heard women say that they knew their family was complete when they looked around the kitchen table and felt that everyone was there. I'm never going to have that. A lot of families don't, either because of infertility or a child lost along the way.
But, there are a dozen reasons for us to be done having babies. I'd rather not deal with infertility again. We have a good balance of work and play right now. We have some hope of saving enough to pay for college. Maternity clothes are awful, and I'd like that closet space back. But most of all, I want to be present for these two kids. I've spent most of Eleanor's life either pregnant or grieving. It is good to have a spontaneous game of tag, to draw a rainbow rather than a storm cloud with the sidewalk chalk, to give her my full attention. She needs a happy, healthy mom more than she needs a sister. And someday, I think, she will understand.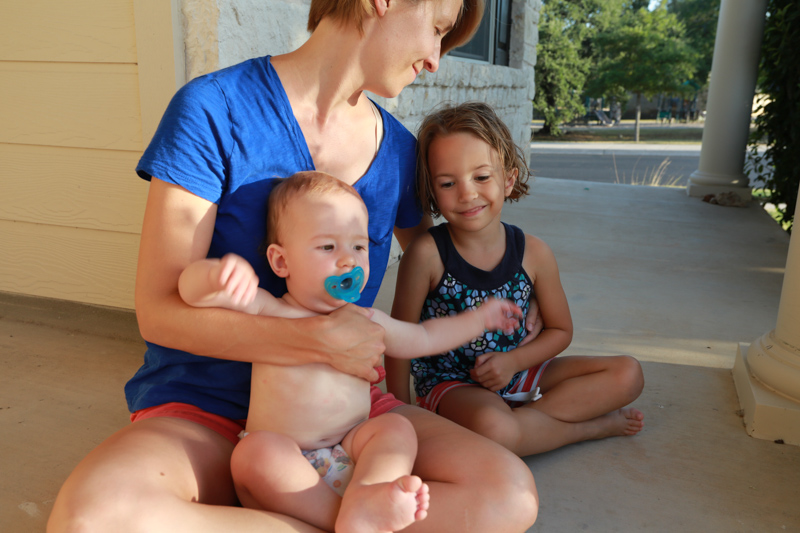 (Please pardon my naked Texan baby. It's still summer here!)