I was reluctant to mention our vacation to people before we left. For me, Cape Cod conjures images of yachts, seaside mansions, and the Kennedys. I worried that my vacation was making me sound snooty. So I would follow each mention of Cape Cod with an explanation of how we were getting a good deal because the summer season doesn't really start there until July. And it's true. We found a reasonably priced rental house that could have accommodated far more than the four of us.
The real trouble was Boston. We planned to spend a couple of nights there too so that we could visit some historical sights and museums. Our Boston stay came at the end of our trip, and I wanted to splurge on a nice hotel room. I quickly found that having a room, any room, in Boston is a splurge. Greg and I agreed on a hotel that was close to Boston Common and deemed kid-friendly by multiple websites. It definitely was a splurge for us, but we went into it knowing that we would get a shoebox — albeit a nice one.
All of us were reluctant to leave Cape Cod for the city. We've gotten used to renting houses when we go on vacation, so hotel rooms always feel like a hassle. It's harder to deal with the snacks and milk that we need for the kids, and Greg and I have sometimes spent an hour squeezed into the hotel bathroom, maintaining perfect silence, while we wait for the kids to fall asleep.
Greg had looked at pictures of the hotel before we arrived and expressed concern about taking our ragtag bunch into such an ornate place. So I dressed them in the nicest clothes I had brought for them, which is to say that they at least didn't have any ketchup stains on their shirts.
When we arrived in Boston, Greg pulled up outside the hotel, and we unloaded our children and our luggage. We recently bought new luggage, all of it varying sizes of backpacks that we can easily tote through cities. Greg carries a behemoth backpack that weighs about thirty pounds when full. I carry a medium one, and Eleanor has a small one. Just like the three bears.
The valets, who were clearly more used to business travelers, were immediately confused.
"Is your company coming to pick up the car, sir?" they asked.
No, no, we explained. He was just going to return the rental car and would then walk back to the hotel. Meanwhile, I would carry 50 pounds of backpacks and a large, sleepy toddler into their fine establishment.
One of the valets helped with our bags, and we proceeded to the lobby. The man at the desk told me that we had received a free upgrade so that we would have space for the crib. I felt mildly embarrassed that we had apparently chosen a room that didn't have space for a crib. He handed me the keys and directed me to a bellman who would take us up. I fumbled for cash in my purse because I knew I would need to tip the bellman. I had a twenty and three one-dollar bills. The ones would have to do.
The bellman asked the room number. I told him 1402, and he said, "Oh, the Harvey Parker Suite. Have you ever stayed in that room before?"
This was a fourteen-story hotel with more than 500 rooms. I assured him that I had never stayed in the room before.
"This is where the owners stay when they come," he said.
Hmm. Either this guy was confused, or he was laying it on thick. I got that we had received a free upgrade, and I was grateful. He didn't need to pretend I had the best room in the place.
We arrived at 1402, and he brought us inside. You guys, this is where the owners stay when they come.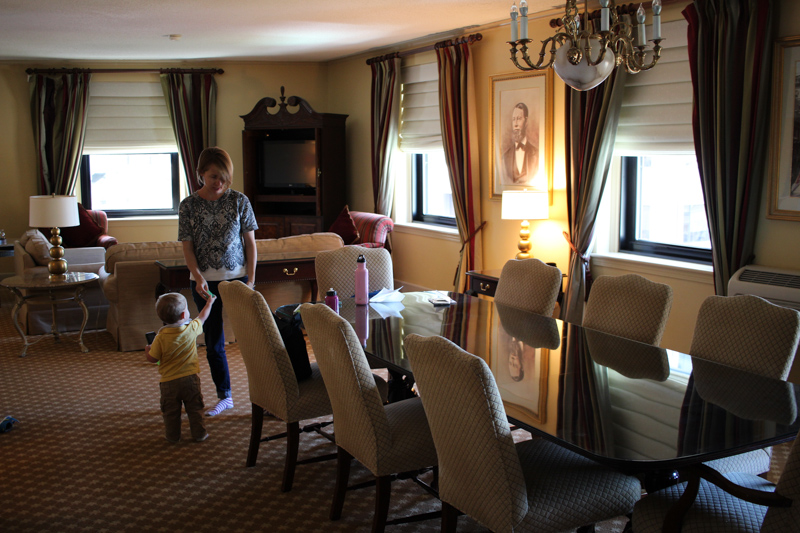 "Let me just open it up for you," he said, and he walked around pulling up blinds and turning on lights. We were in an enormous room, but there wasn't a bed. The bed was in the next enormous room.
Then I remembered the three dollars in my pocket. This bellman thought that I belonged in this room. I handed him what was probably the saddest tip he has ever received in that room, and he departed.
We had a banquet table for eight people, a butler's kitchen, two bathrooms, and views of Boston Common and the North End, including Old North Church. This hotel room was bigger than the house I grew up in.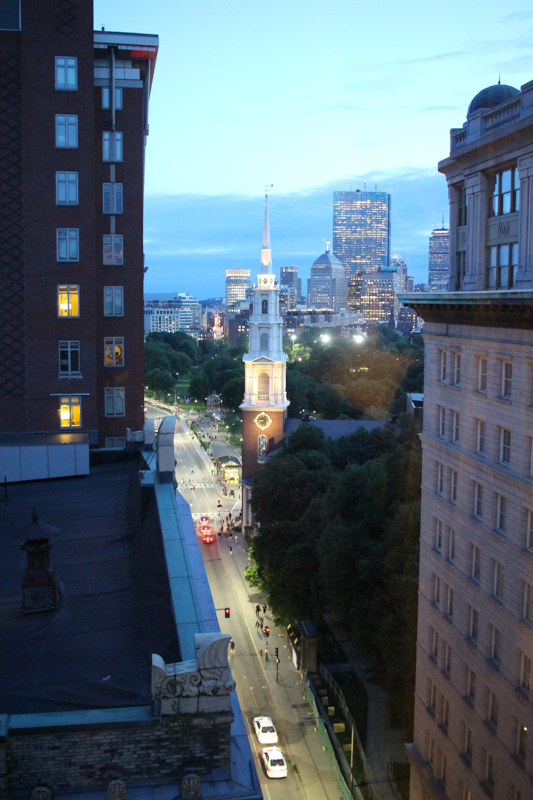 Greg was still dropping off the car. I sent him a text with nothing more than the room number so that he could be surprised. When he arrived, we both gushed over our good fortune, and Eleanor practiced handstands and other gymnastics skills. We read up on the hotel, which has a history too long to recount (but includes hosting JFK's bachelor party and employing Malcolm X), and speculated about who had stayed in our room.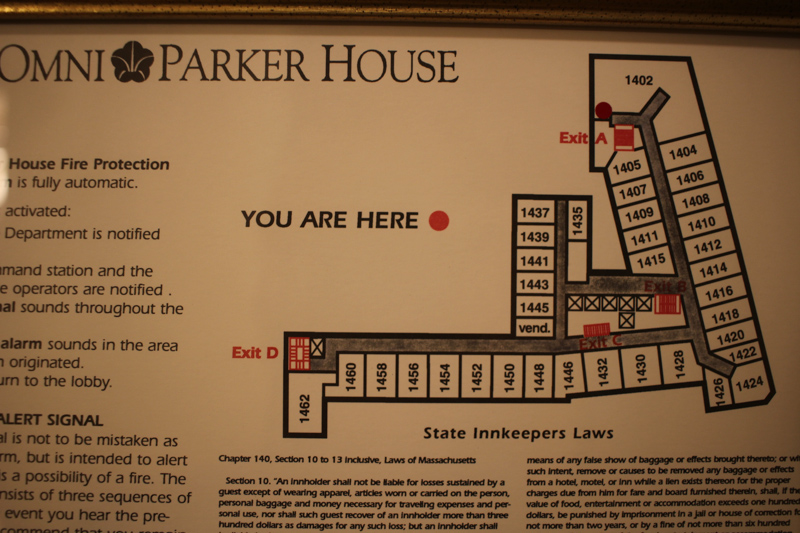 (You are here. Oh yes, we have arrived.)
We had booked a two-night stay, and I expected that after our first night, they would tell us they had make a mistake. Why would you give your nicest room to a family with a toddler who I sometimes refer to as "Destructo Henry"? (I only call him that in my head, you understand.)
We should have thrown a party, but we know only a handful of people in Boston, most of whom we haven't talked to in years. Maybe that's why we got the room. They saw the kids and thought "These people aren't going to be doing anything crazy."
Oh, but we did. On our second night, we filled up the jacuzzi tub, turned on the jets, and both kids flung bubbles and danced naked in front of the floor-to-ceiling mirror behind the tub. Eleanor is insisting that we request to have that room again if we return to Boston. We've become snooty, y'all.