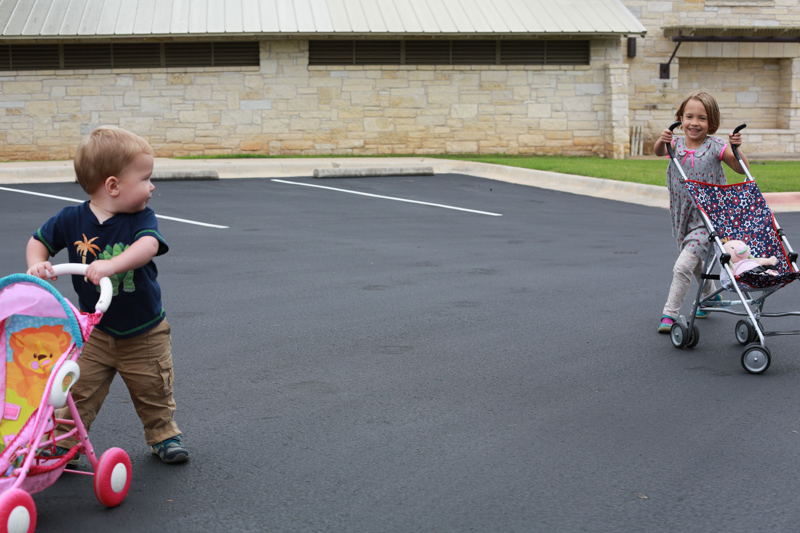 (If I were to own only one toy, it should be a small stroller. It doubles as shopping cart and lawn mower. Kids love to push stuff.)
One of the interesting aspects of being a parent is watching how everyone handles the toy situation. And I do mean situation. At day's end, our house typically looks like it has withstood a small natural disaster. And this natural disaster strikes every single day. I'm all in favor of having the kids help clean up at the end of the day, but that only happens once or twice a week. Usually I realize too late that we have forgotten to clean up.
Some of the parents I know have bins of toys in every room, while others have all of the toys tucked into bedrooms and playrooms so that you might enter their home without recognizing that kids live there. We have a designated playroom, and the best part of the playroom is the door, which I can close. But I want our kids to feel comfortable playing in every room of our house, with the exception of our office and the master bedroom.
I love seeing how children innovate with toys, how Eleanor will use the pieces from our Clue board game in her dollhouse. That sounds ominous now that I've typed it. My point is that my kids rarely use toys the way I expect them to, and I think allowing the toys to roam fosters creativity. Still, at day's end, I want a clean family room where I can relax. Everything goes into the playroom. We close the door.
A while back, we started boxing up some of the toys and keeping them in closets. Every couple of months, we rotate toys, and then our old toys feel new again. Plus, we don't have to pick up every toy we own every night.
We own a lot of toys. I am the only person in our house who has a problem with this. We buy our children few toys, but between birthday parties, holidays, and school events, new goodies arrive in our house nearly every week. And I understand that people give these gifts as a symbol of affection. I like to spoil my kids, too. That's why it is so hard to tell people that we really don't need these things. Our kids do seem to treasure every sheet of stickers and plastic ring that they receive, at least for the first five minutes. When I ask Eleanor to be involved in the toy giveaway process, it is as though we are Democrat and Republican trying to get a bill through Congress.
Thus I rely on executive orders. Actually, I have a holding area for toys that I want to get rid of, a place for them to wait while I see whether Eleanor remembers. ("The Velveteen Rabbit" is flashing through my head. Am I a terrible person?) After a few weeks, I donate or trash each item. But Eleanor always remembers. Sometimes she will ask for a toy that I gave away six months ago. Days of theatrics ensue.
So why not let all of the toys pile up? Because then we have to spend even more time searching for favorite toys that have been lost in the mess. Also, I like having closet space for things like clothes.
I hate the feeling that stuff interferes with family relationships, that I have arguments with my child over toys and that I have to spend a significant portion of my time managing our possessions. I know that our children would be just as happy with less, that I would be as happy with less. I want our energy to be focused on relationships and doing things we like.
I understand that the kids will grow out of the toy phase, that someday I will cry as I give away the alphabet puzzle and the doctor's kit. The toy worry seems frivolous in the face of the ticking clock. But I can't help thinking that with toys, as with so much in life, simpler is better.