Henry turned two last weekend. When it was time to sing "Happy Birthday," I debated whether to light the candles on his cupcake. I had no memory what we had done for Eleanor. Frankly, what we had done for Eleanor was irrelevant. In the past week, my son had run his strider bicycle head-on into a wall and sprayed himself in the eyes with bug spray and dislocated an elbow. Greg, ever the optimist, said the two little candles would be fine.
Henry immediately reached for that beautiful light, burning his finger. And then we launched into the singing. Henry's lower lip quivered. I wasn't sure whether he was crying about the burn or the singing or the cupcake sitting in front of him that we wouldn't let him touch. No doubt toddler curses were flying through his head.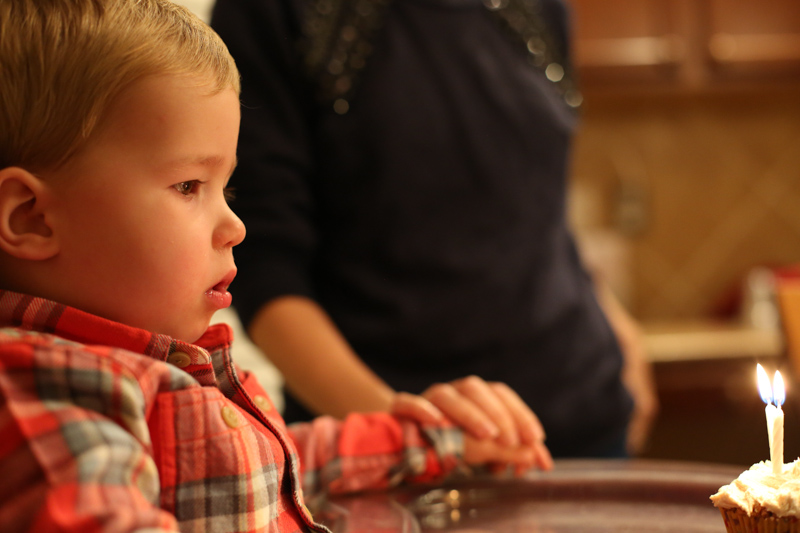 I think he forgave us when he finally got to eat the cupcake. All of this is to say that the cupcakes were good, even without eggs (Henry is allergic.). For his first birthday, I had made a chocolate-avocado cake, which had been fine but not outstanding. I have learned a lot in the past year about egg-free baking, and I thought I'd share for other bakers.
I've been frustrated in looking for recipes without eggs because inevitably they are on vegan baking sites. I'm not anti-vegan. Baking with natural sugars and whole grains can add a lot of flavor and texture. But sometimes I want to bake a birthday cake — a rich, decadent ode to sugar and butter.
Many standard cake, muffin, and cookie recipes turn out wonderfully with ground flax. Mix one tablespoon flax with three tablespoons water for each egg you need to replace. I've read that you need to let this rest for 30 minutes, but I've baked without the rest time and had no problems. Be sure to mix your flax really well with your other ingredients because it can taste bitter if you hit a spot that hasn't been mixed.
Without the eggs, my goodies turn out slightly less lofty and golden. I try to choose recipes that have a little extra something in them — bananas, pumpkin, oats — that works with the more dense texture. Here are a few recipes that have worked with flax:
Sweet potato cake via Smitten Kitchen
I made this for Henry's birthday with a cinnamon buttercream. The marshmallow frosting is obviously a no-go. Sigh.
Salted chocolate chunk cookies via Smitten Kitchen
Yeah, pretty hard to ruin these. And flax means you can eat the dough without worry.
Maple pumpkin muffins and maple-sweetened banana muffins via Cookie and Kate.
These two similar recipes are healthy, but they are also delicious. My kids ate these whole wheat muffins without complaint.
Oatmeal cookie pancakes via Joy the Baker
Breakfast can be one of the toughest meals. No scrambled eggs. No French toast. Sometimes I want to do better than a bowl of cereal.
I'm always on the hunt for new recipes, particularly cakes because so many of them call for a half-dozen eggs. Is it wrong of me to secretly hope that my favorite food bloggers give birth to children with egg allergies? I'm pretty sure that's wrong.
If anyone has managed to make good eggless brownies, let me know. Mine were inedible. We ate them anyway because we don't waste chocolate in this house.