We spent the past five days in Washington, D.C., after buying cheap plane tickets on a whim several months ago. Here is where I went wrong in planning this trip: I planned the trip for a 7-year-old. I figured that the resident 2-year-old wouldn't be much interested in history or museums and was just along for the ride. Alas, Henry is nearly a full-fledged person with opinions to match. He wasn't just along for the ride.
I managed to arrange a White House tour back when we booked our trip. We could select the day of our tour but not the time. We got noon. We couldn't bring in anything more than phones and wallets. No diaper bag. No purse. No stroller. So our options were to take nothing along on our morning expedition or to take all of our stuff with us and then have Greg ride the Metro back to our apartment to drop off everything before the tour.
We took nothing, save a couple of granola bars. The trip from the Metro station to the Lincoln Memorial to the White House might as well have been an expedition up Mt. Everest. It was a walk of several miles, and all our kids wanted to do was sit at the reflecting pool. We had to scrap our plans to see the FDR Memorial and a few early cherry blossoms. When we reached the White House, the kids were exhausted. We still had to wait through security and more security.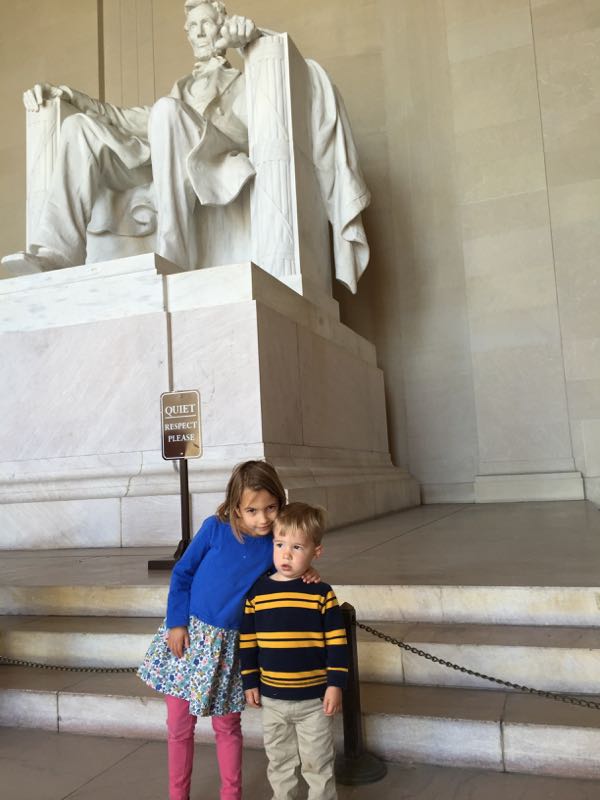 (I believe this is our first official Abe photo here on Land of Abe.)
All of this is to explain why my son was rolling around on the floor of the State Dining Room as other visitors dodged him. The Secret Service agents, and the portrait of Abraham Lincoln, watched but made no move. Disapproval all around.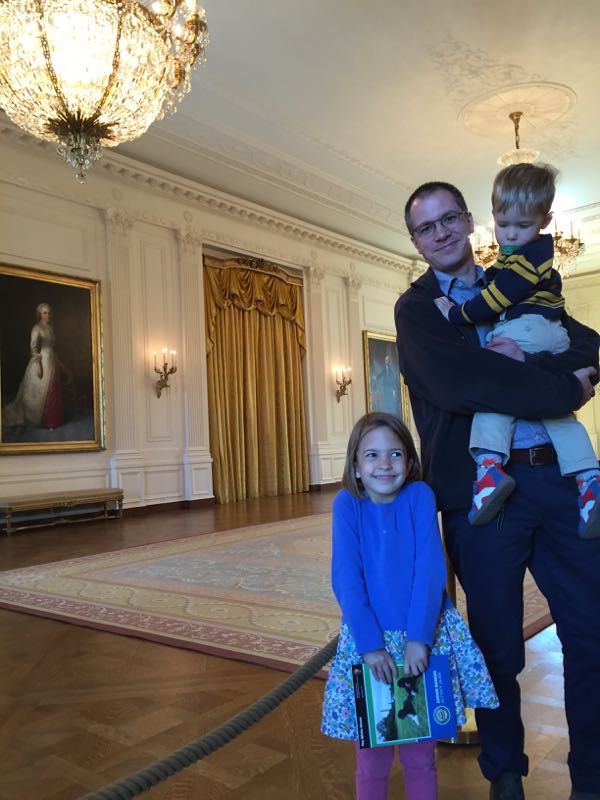 (Happy daughter and disgruntled toddler. Persevering husband.)
That night, we had dinner at a Thai restaurant near the apartment we had rented. The conversations I overheard in D.C. were fascinating. People talked of foreign work and travel. Everyone sounded so cosmopolitan. During our meal, I listened to snippets from three older men sitting at the table behind ours. One of the men said to his friend that the university would do everything it could to hold onto its Nobel Prize winner. Or at least that's what I thought I heard. Then, our food arrived, and Henry became entranced with the carrot ribbons on my plate. He grabbed them and flung them toward other tables.
Later, some Google searching revealed that the man sitting behind us had indeed been a Nobel winner. I don't think any of the carrot ribbons had hit him. I'm glad we were able to uphold decorum.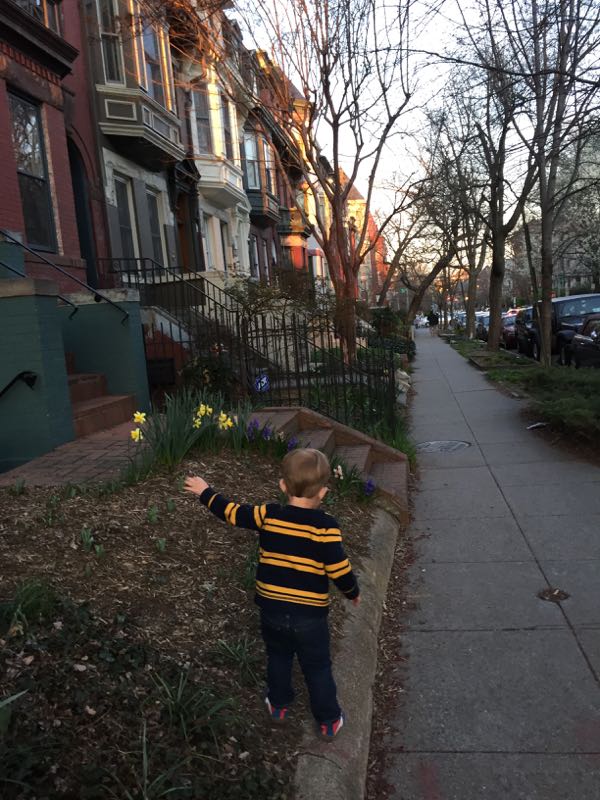 (Looks picturesque, but I was unable to take photos during tantrums.)
As the trip wore on, I gave up on trying to reach all of the museums we had planned and instead accepted whatever was easiest. All of the free museums were a huge plus because we didn't have to commit to staying long. We ended up at the National Museum of the American Indian simply because it was close to another spot we wanted to see. It was a delightful surprise, with a children's area and a swanky cafeteria (sounds like an oxymoron, I know).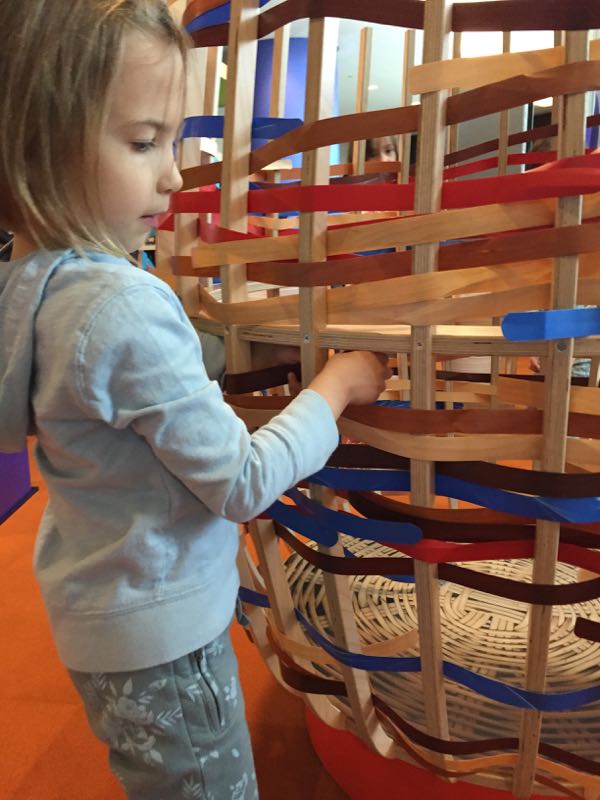 (Basket-weaving at the National Museum of the American Indian.)
We also popped into the National Portrait Gallery when we needed to warm up from the cold. Eleanor was so enchanted by the historical paintings that I think she means it when she says she wants to be an artist. We had to leave quickly when Henry began treating the benches in the gallery like trampolines.
For our flight to D.C., I had packed sandwiches with gluten-free bread for our newly diagnosed celiac. I could not find anything at the D.C. grocery store for the trip home. There wasn't gluten-free bread or any ready-made gluten-free food. I settled on some crackers (gluten-free, of course) with peanut butter. I knew the crackers would get soggy if I added the peanut butter ahead of time, so I planned to take the jar with me.
Is peanut butter a liquid? I think not. Airport security disagreed. Confiscation. After scouring our little terminal for a replacement (yogurt and a cheese stick), I arrived back at our gate to see CNN flashing a news alert about Trump meeting with Republicans in D.C. Out the window, Trump's airplane sat on the tarmac. His peanut butter never gets confiscated.
"Was that fun?" I asked Greg when we got home last night. "It was an adventure," he replied. I think I will remember it fondly, but it was an exhausting thing to live through.