Christmas in our house has reached the boisterous level that I had always hoped for. Henry is fully in on the festivities this year, though he will be sorely disappointed when he wakes up tomorrow and has not received a "shoot gun." Four weeks ago, his only request from Santa was a toy saw. Regardless, the Santa who visits our home is a pacifist, so a saw it will be. Henry can continue to turn my dinner-time carrots into shoot guns.
We drove around looking at lights last night, and I thought how Christmas has been really cheerful and easy this year. With Eleanor and I taking violin lessons and Greg taking cello, music floats through the house. At night, Greg and I have been working on the big puzzles section that came in our NYT last Sunday. It's a nice break from our usual reading and Netflix routine. I even figured out a gift to put in Genevieve's stocking — an ornament engraved with her name — something that stumps me every year.
We have an elf, an elf that was a "gift" from a grandmother a few years ago. "Have you ever heard of this?" she asked. Well, we've been trying to avoid it for four years. Anyway, the elf is often a nuisance, but she always does a grand finale before Christmas, and that part is fun. Last night, she decorated our kitchen with bells and ribbons and 80 bows. Don't ask how I know that it was 80.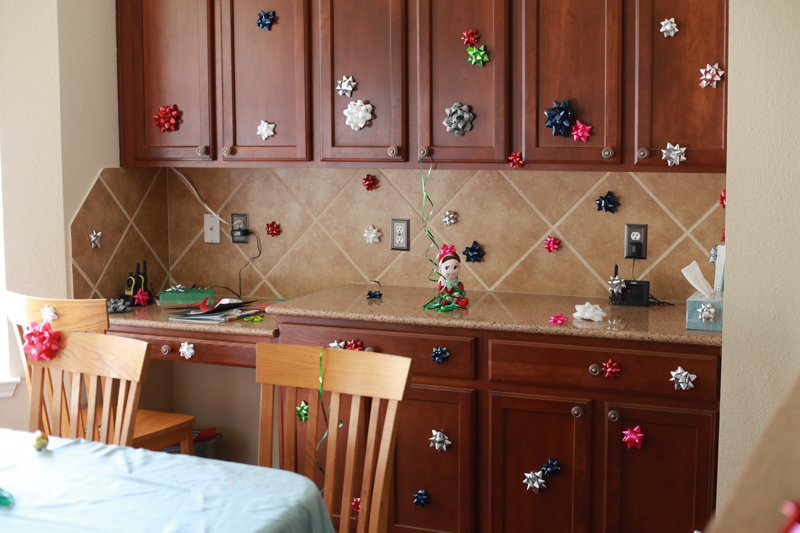 Between having surgery, looking for a job and watching the political ugliness of the past few months, I have become a grouch, and I'm grateful that I can take a break from everything and feel no guilt. Well, maybe a bit of guilt (Syria!), but I made a donation toward that this week, at least. Life, for a moment, feels like enough.
I hope that the holidays are peaceful and bright for all of you.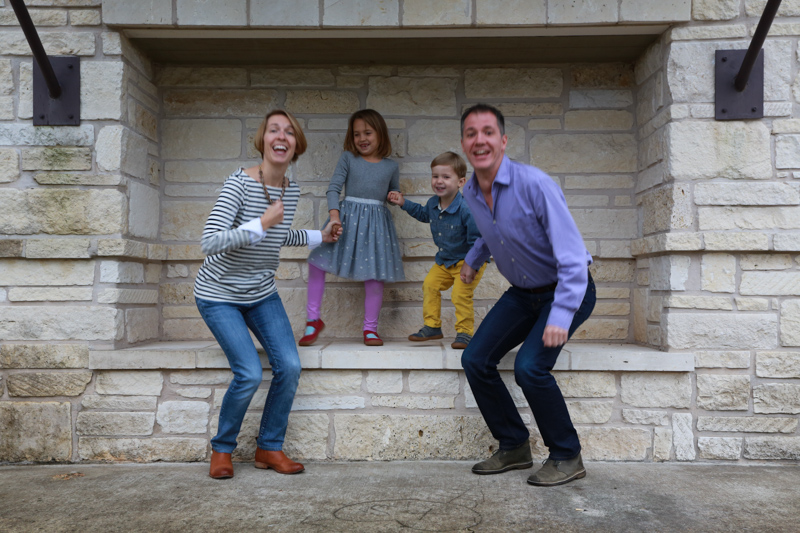 (Those jumping photos that everyone posts are not so easy to capture. This is a preview of how Greg and I will look dancing when we are 75.)