The past few years, we have taken a short trip at the holidays. I wanted to try something more adventurous than our typical jaunt to a big-city zoo or museum. We had never been to West Texas — or East Texas, for that matter. West Texas is that part of the state that looks the way everyone imagines Texas to look: sand, horses and oil.
Even more intriguing was New Mexico. I've talked about visiting Santa Fe for years, for so long that I'm recognizing now that I should have made that trip my New Year's resolution. Anyway, Santa Fe is an 11-hour drive from Austin, and I doubted that I would be able to savor art galleries and fine dining with the kids in tow.
We started narrowing our list. We wanted to see White Sands National Monument and Carlsbad Caverns. And in Texas, we wanted to see the artsy town of Marfa, Big Bend National Park, the McDonald Observatory (renowned for its lack of light pollution) and the Davis Mountains. These places are considered close to each other — by West Texas standards — where the speed limit is 80 and plenty of people drive an hour to buy groceries. Despite the vast nothingness on the map, West Texas had more attractions than we could manage.
I set some guidelines. We would go someplace that we could drive in one day, and we would do something that we expected the kids to like. Bonus points for fun that could be done regardless of weather. We could count on good weather in a cave, so Carlsbad was the obvious choice.
We have never taken the kids on a road trip, and for the first few hours of our drive, Henry repeatedly asked when we would get to the airport. We passed a few tiny, private airports, and he got excited: "Oh, there's the airport!" We decided that we would split the drive west over two days, with a stop in Odessa, the hometown of two of my friends. Odessa is a mid-sized town that is known for having little to see and little to do, which means it is very similar to my own hometown.
Both of my friends had told me to brace myself for Odessa. It wasn't pretty, they said, though they used stronger words than that. Here's the thing about Odessa: It's pancake flat. I was prepared for the drilling equipment and the smell of oil and maybe even the lack of trees. It was the flattest place I have seen, and I'm from the Midwest. As I scanned the horizon for something, anything, of interest, I found only oil rigs.
While we were there, we met up with one of said friends who was visiting her mom for the holidays. We convened at one of the big Odessa attractions, a Stonehenge replica. The adults could have checked this off the list after about five minutes, but the kids were happy to run around and collect rocks.
After a nice visit, we moved on to Monahans Sandhills State Park. We had ruled out White Sands (too far), so my friend suggested Monahans, which was about 30 minutes from Odessa. We rented saucers, waxed the bottoms, and the kids got the first sledding experience of their lives. Eleanor loved it, while Henry preferred to get down and dig. Nothing like sledding in 75-degree weather. At the end, Greg lectured all of us — in his meanest voice — about how we were not to get into the car until we had cleaned every granule of sand from our bodies. I usually try to present a united front with Greg, but you guys, we had just spent an hour and a half playing in the sand while fully clothed. Are you kidding me? I gave the kids a good brush-off and shooed them into the car. We still had a three-hour drive to Carlsbad; I spent much of the drive finding grains of sand on my arms and showing them to Greg.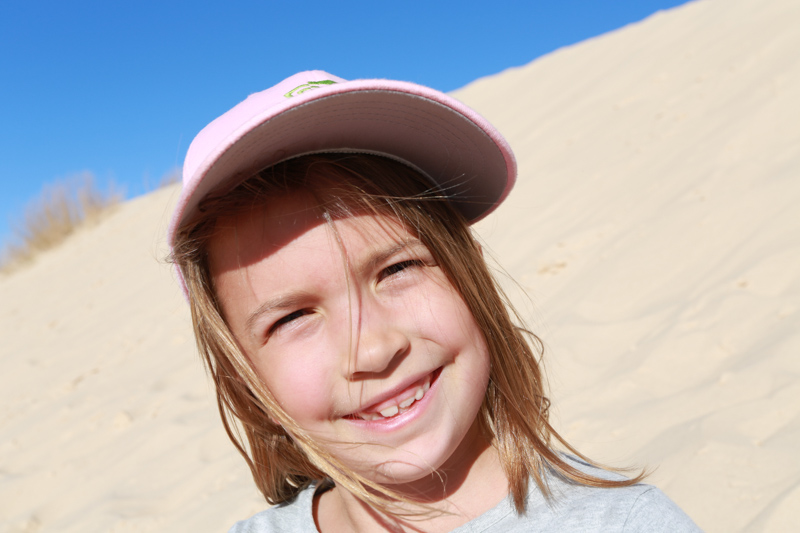 The farther we drove, the more desolate things became. It was all oil all of the time. The small towns we passed were impoverished to the point that it was hard to believe we were still in the United States. As we neared Carlsbad, we saw mountains looming. Finally, something to look at. When we crossed the state line, I noted to Greg that this was the first time our children had ever crossed it. Texas is hard to escape.
The next morning, we drove out to Carlsbad Caverns. I felt a lot of pressure to love the cave because we had driven so far. We started walking through, and I thought, "Was this worth an eight-hour drive?" Then I reprimanded myself. Staying home is always going to be the easier option. This was about doing something a bit harder in the hopes of family bonding. The caverns were incredible, though, like standing in the biggest cathedral ever built.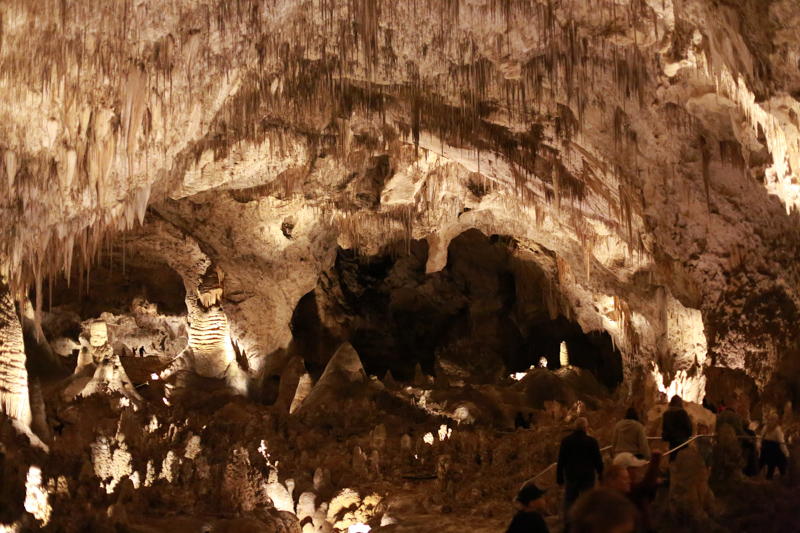 We had done a 30-minute drive out to the caverns, and Guadalupe Mountains National Park was another 30 miles beyond that, so we decided to go for it. It was a cold, windy day, and Henry fell asleep in the car, so Eleanor ended up spending a lot of time in the visitor's center while Greg and I took turns sitting in the car. We hiked a bit and then drove back to Carlsbad; I'm sure the park would be amazing in the spring or fall.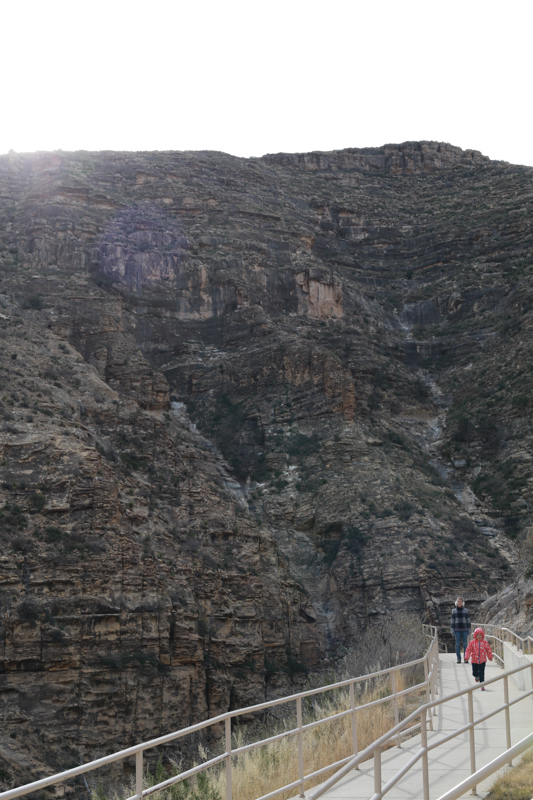 The next day, we drove out to Sitting Bull Falls, which is about an hour from Carlsbad, and like everything else, is in the middle of rugged, mountainous desert. We walked to the bottom of the falls, and then we started the hike to the top, but I chickened out when we reached a cliff. I turned back while Greg went on with the kids. The isolation was incredible. I enjoyed the serenity and walked around reading the informational signs. "You are in cougar country," warned one sign. I no longer enjoyed the serenity. I checked my cell phone. No service. I began stomping back and forth so that any cougars would hear me and stay clear. I wondered whether Greg could adequately protect both children from cougars and from falling off a cliff. When they finally returned, we ate a picnic lunch of PB&J. Loudly. Cougars.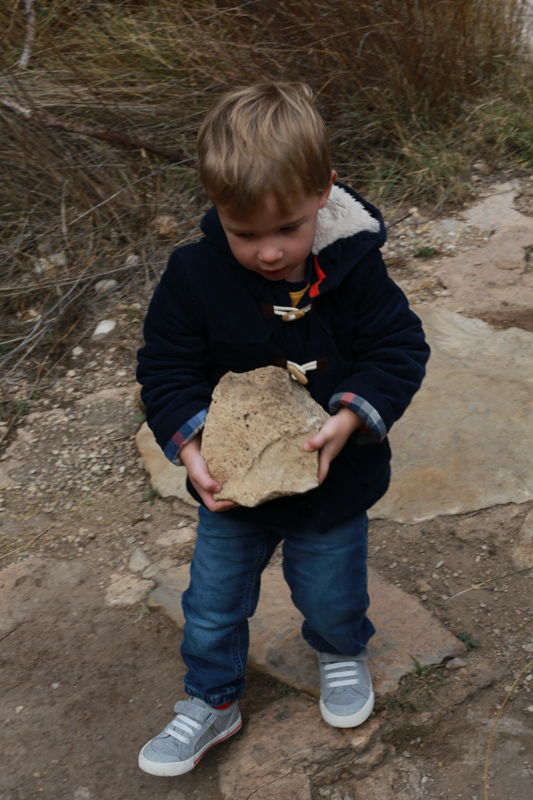 (I told Henry he could throw rocks into the water. This was his rock.)
We took a different route home to Austin, across Interstate 10, which was much better than our Odessa path. It had buttes and hills and much less oil equipment so that we could actually enjoy the desert scenery. The kids were cranky for the first hour or two but then gave into the boredom and did fine. Greg and I both declared the road trip a success. Where to next?