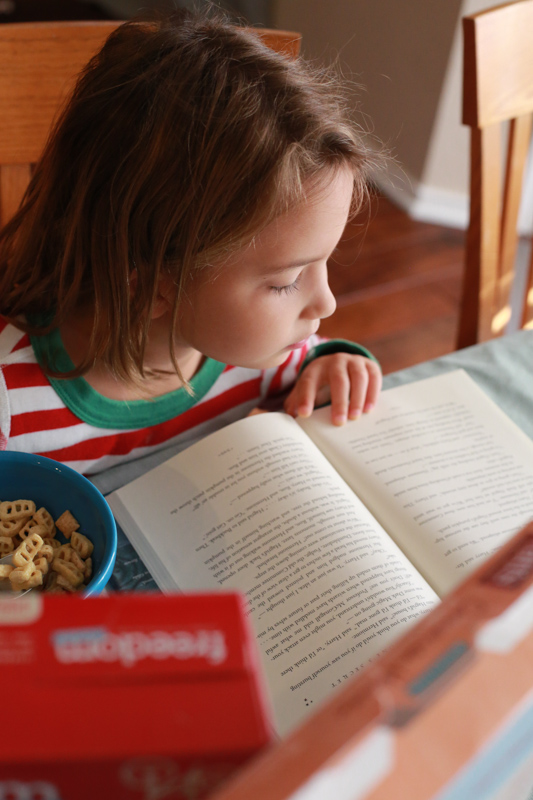 Why aren't there more great chapter books for girls? Not that books should be classified by gender, but in many cases, books that have adventures and mysteries have male protagonists, whereas the books about relationships have female characters. I grew up on The Babysitter's Club, so I'm not against books about relationships. Let's have some balance, though.
Eleanor has gone through many of the Magic Treehouse and Boxcar Children books, along with all of the Little House books. She's reading ahead of her grade level, yet some of the books that she's capable of reading aren't necessarily books that she should be reading. It can be difficult to find books that are challenging for her but aren't too mature in theme.
Here are a few of the books we've been reading lately. We read these to Eleanor at bed, but sometimes she asks to stay up later to read on her own (Be still my heart!).
The Penderwicks: This is a series (Yea!) about a family of four sisters being raised by their widowed dad. We started on the second book because the library didn't have the first, and now we're part way through the first. The sisters range in age from 4 to 12. The oldest takes on a motherly sort of role, while the middle two are opposites. One loves science, and the other is an aspiring writer named Jane. The baby of the family gets into all sorts of mischief when her sisters are supposed to be watching her. There are literary references sprinkled in, and the dad, who is a professor, sometimes speaks in Latin. The books are charming and wholesome while still having a nice feminist spirit.
Bridge to Terabithia: This is a classic and was my favorite book during upper elementary school. Still, I was hesitant to read it now. Would it hold up? Oh, I enjoyed it more as an adult. It was so timely! This is about a friendship between a boy and girl who both feel like outcasts in their small town. The boy comes from a large farming family, and the girl has just moved from D.C. with her parents. Her parents are worldly and don't own a television, while the boy's parents are just scraping by and are devout churchgoers. Prescient, right? The main characters create a magical world in the woods where they can escape from classmates and family. The book ends in tragedy, and I was a red-faced, snotty mess while reading it to Eleanor. This story was mature for her, though she loved it. I had to do some editing as I read because of language and a Santa reveal. Either I had great taste in books as a 10-year-old, or I haven't changed much.
Anne of Green Gables: I had never read this! I missed out on a lot of great books as a child, and it's fun to experience them for the first time now. I don't think I need to give the full synopsis on this because it's well-known. The language was so challenging that I had to look up some of the words. Also, Anne talks about having a "lover," which I assume means boyfriend, but makes for some awkward reading with a 7-year-old. As a bonus, PBS put out a new version of the film in November, which we watched. It cut out a lot of the book (Of course!), but the girl who played Anne was charming.
Any recommendations for us? We're making our way through Harry Potter but waiting for Eleanor to get a little older before we read the final books.