Before we arrived in Montreal, we spent a few days in Toronto. It's cliche to say that Canadians are nice, and "nice" is about as generic as adjectives come, so I will say that the people we met in Toronto were helpful. When Henry began crying in the hotel breakfast room one morning, an employee came dashing over with coloring pages and crayons. When Henry began crying at the grocery store, a bakery employee came over with free cookies for our kids. These things were offered with complete grace — no hint of annoyance at our loud American child.
Montreal residents do have that aloof French air about them, but we have found that the same friendliness is there once we strike up a conversation. The servers in the restaurants have been eager to help us navigate menus and always ask our opinion of the meal when we are done. Is it just an Austin thing where servers act too cool to care? Because I'm assuming that is a U.S. thing.
The friendliness extends to driving. Our Toronto hotel was suburban, so we ended up in a lot of traffic jams as we went to and fro. Drivers left plenty of space between cars, and when we turned on our signal to change lanes, we were immediately given space to move. I know that U.S. drivers are impatient, but I hadn't given much thought to how competitive U.S. drivers are. In Montreal, the pace is more hectic, yet Greg noted yesterday that we haven't seen wrecks or drivers pulled over despite a lot of police. And when we've taken public transit, people immediately give up seats so that our kids can sit.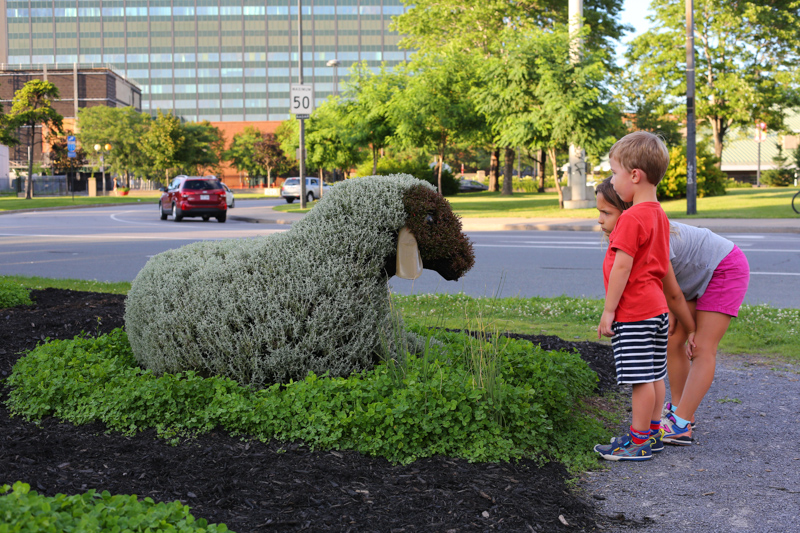 (Art with plants! And lots of other public art in Montreal.)
Rush hour here has as many bikes as cars. I've been on a few morning jogs, and I love watching the people pedal past in suits and dresses. There are bikes sitting in front of every home, and there are bike rental kiosks every few blocks.
In that same vein, Montreal has a lot of parks, and people use them a ton. Tonight, we walked through the park near our apartment, which is huge, and saw people playing soccer, volleyball, bocce ball, and badminton. People were juggling and doing yoga, and every picnic table was full. Most of the parks have playgrounds, and the playgrounds seem more challenging than those in the U.S. The slides are higher, and there's more climbing equipment. The people here look pretty darn fit, as you would expect.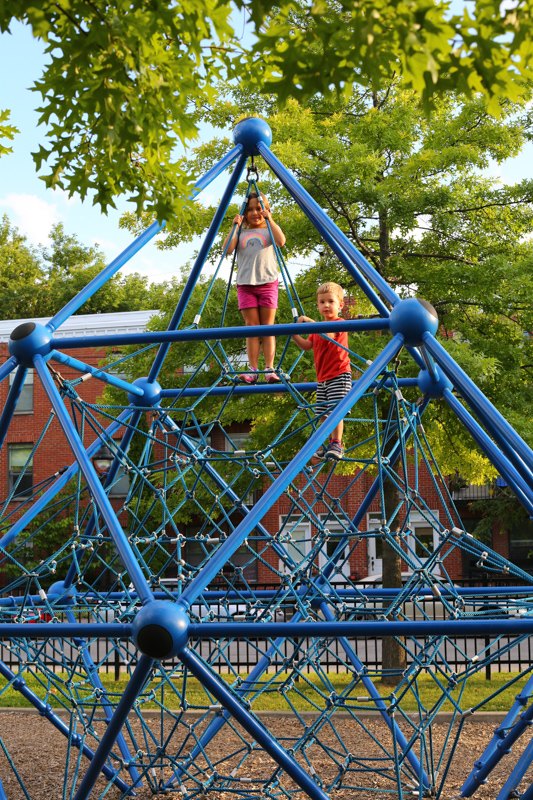 That's not to say that we are packing up and moving to Canada, though I look forward to hearing any reasons we should return to 100-degree Austin right now (Medical care, right? Speaking of which, Henry has been feeling much better despite still having some rashiness.). This city has a lot of smokers. The construction in the summer is unbelievable, with detours everywhere. We have had a jackhammer working both in front of our apartment and behind it (the behind part being the alleyway). The dishes were shimmying toward the edge of our cabinet shelves yesterday from the pounding. Also, I haven't eaten a taco in three weeks. And I hear the winters are rough.
Summertime in Canada is pretty amazing though. At the moment, the only thing standing between us and illegal residency is that jackhammer.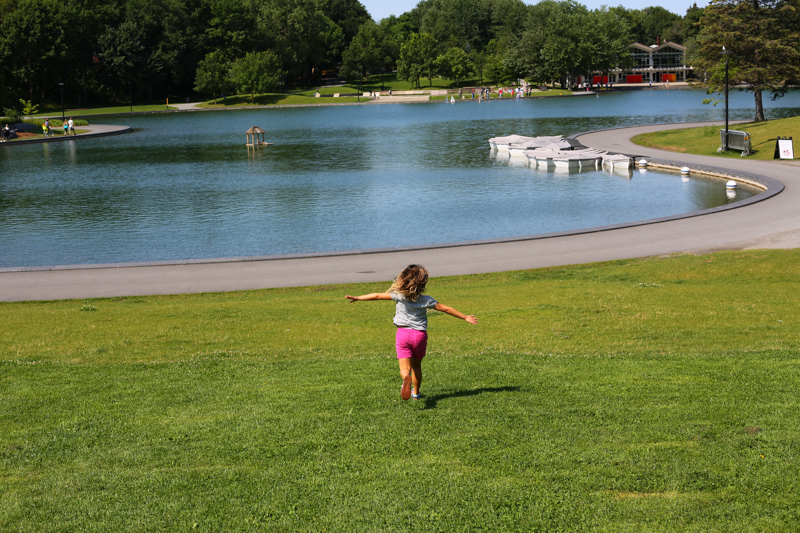 (We're getting a little "Sound of Music" up here.)